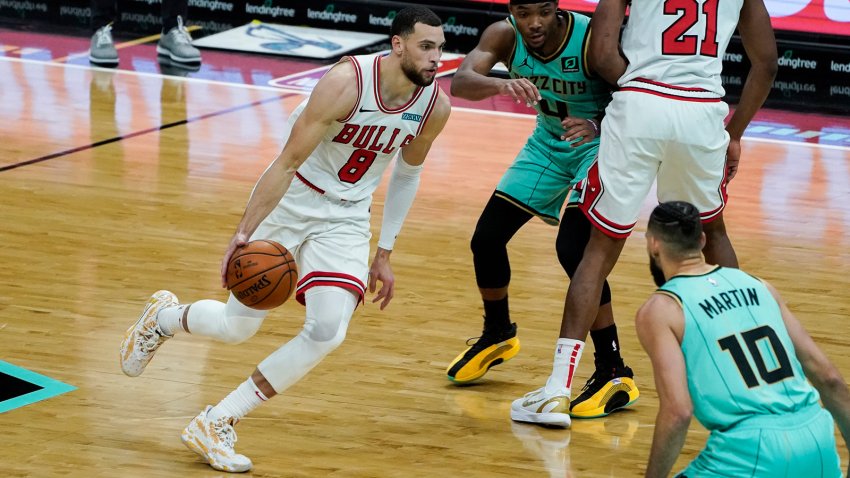 Bulls playing beautiful basketball behind evolving LaVine originally appeared on NBC Sports Chicago
With their 123-110 victory over the Hornets in Charlotte, N.C., Friday night, the Bulls tied a franchise record with their seventh straight outing scoring 115 points or more.
It's been 51 years since the last time they did so. Way back in February 1970.
Only the most diehard fan might feel like it's been that long since they posted a three-game win streak, something they accomplished for the first time since February 2019.
And it's the way they're doing so that's making people take notice. Iso ball is gone. Cutting and making the extra pass are here.
It's fun. It's refreshing. It's aesthetically pleasing to watch.
"I said from Day One that I think this has got to be a team," coach Billy Donovan said.
With 33 assists, the Bulls posted their fourth game with 30 or more assists and fell one shy of their season-high. At 51.6 percent, the Bulls already have posted seven games shooting 50 percent or better.
Zach LaVine (25 points) and Lauri Markkanen (23 points) eclipsed 20 points in the same game for the third time in eight tries this season. Last season, they did so just six times in 46 chances.
Five players scored in double figures. With nine assists, LaVine posted his sixth straight game of five or more -- and ninth time in 10 games.
"It's me just understanding over the last three years, you can't do it by yourself," LaVine said. "I think I took a step in the right direction over the offseason of looking at how I can try to help my teammates be better. Trusting and having guys healthy also helps a lot. When you have a full roster, you're able not to take breaks but feed the ball more around. I'm just trying to read the game. We're creating a lot of open shots, so it's been good."
Don't worry: LaVine can still score. He became the first Bull since Michael Jordan to eclipse 400 points in the first 15 games of a season.
But he's picking his spots more.
"Zach is obviously an elite and an incredible scorer. But I think I've said you just can't rely on him every single night trying to carry the team home," Donovan said. "He has had an incredible year and has played unbelievable. But I think we'll be a better team if we can get five, six, seven guys on a nightly basis in double figures and can share the ball and generate good looks for each other. I think that for the most part, they've gotten better and better at that as the season has gone on."
There was no aha moment. No passing sequence from training camp created a lightbulb moment. The process has simply resulted from Donovan and his staff consistently talking about it and the players recognizing the roster's depth.
"You have to buy in. Once everybody does that, it helps the group because everybody can pretty much be accountable. You understand what you need to do," LaVine said. "It's pretty much the same team we had last year so we're all obviously familiar with each other. But a lot of it is buying in and not trying to repeat what we've been doing over the last couple years. We've changed a lot. And our mentality is different."
That depth on Friday featured the return of Tomáš Satoranský, his first action since Dec. 29 because of a positive COVID-19 test. Satoranský contributed four assists and hit his only shot in 11 minutes.
"It was good to have Sato back," Donovan said. "You know he's going to play with energy. He's going to give you everything he has."
Getting LaVine and Markkanen going at the same time is critical. Their inconsistency at doing so has been a consistent storyline over the past three seasons. And Markkanen knows it.
"Obviously, there was talks early in previous years that we wouldn't be able to do that, but I think we've done a great job. We work together and are trying to get better," Markkanen said. "It's just two-man game. So we'll get our shots up at the practice, from pick-and-roll or dribble handoffs. Just trying to get to know what Zach likes and he knows what I like and we're going in a better direction."
It's now time for a friendly reminder that the Bulls ranked 29th in offensive rating last season. Following their third straight victory, pending late games out West, they had entered the top-10.
LaVine's evolution has been a big reason why.
"He's been great trying to play the right way," Donovan said. "I think he understands that he's gotta lift up the level of play of the team. I think the sign of a great player is a player that makes everybody else around him better. And I think he really made some great passes and got guys some open looks, and I think that's his evolution as a player. Everybody knows he can score. Can he raise up the group around him? And I think that's what he's really worked hard to do this year and I think he's doing a great job and he's working really hard at it."
Copyright RSN