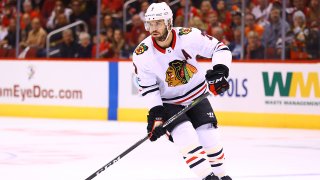 Blackhawks postpone Brent Seabrook's Legacy Night originally appeared on NBC Sports Chicago
The Blackhawks announced Monday morning that Brent Seabrook's Legacy Night on Jan. 31 will be postponed.
"The Blackhawks and Brent both want his entire family to be able to travel in for this special recognition, and with the risk of an extended stay in Chicago with school-aged children, we understand it is in his family's best interest to stay in Canada for the time being," the team said in a statement. "We look forward to honoring Brent's career in a future season."
In March of 2021, Seabrook announced he is ending his playing career due to injuries. He spent all 15 seasons in Chicago, where he won three Stanley Cups and will go down as of the franchise's best defensemen.
Seabrook's contract was traded to the Tampa Bay Lightning over the offseason in exchange for Tyler Johnson.
Click here to subscribe to the Blackhawks Talk Podcast for free.
Copyright RSN