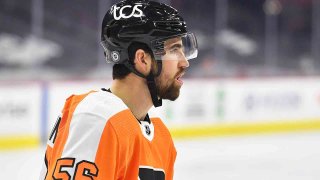 Gustafsson says family teared up after re-signing originally appeared on NBC Sports Chicago
Tears of joy were shed in Erik Gustafsson's household when he got a chance to re-sign with the Chicago Blackhawks.
"My wife is pregnant now, I don't know if that was probably the reason she was crying, but she was happy," Gustafsson said on this week's Blackhawks Insider podcast. "I was very happy, too. I got very happy when they (Blakhawks) called here."
The Blackhawks brought the defenseman back on a one-year, $800,000 contract two days before the opener against the Colorado Avalanche. He spent last season playing for the Philadelphia Flyers and Montreal Canadiens.
Gustafsson played the first four and a half years of his career with the Hawks and is now in his second stint with the team. In total, he has 28 goals, 89 assists and 117 points in 217 games with the Hawks.
Copyright RSN