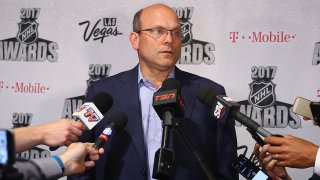 Hawks candidate tracker: The latest on GM search originally appeared on NBC Sports Chicago
The Blackhawks' search for a full-time general manager is in full swing, and the goal is to finalize the hiring before the NHL trade deadline on March 21. CEO Danny Wirtz and president of business operations Jaime Faulkner are spearheading the interviews, but they're also leaning on Marian Hossa, Eddie Olczyk, Patrick Sharp and Mike Forde of Sportsology and his staff throughout the process.
In a town hall event on Feb. 2, Wirtz identified what exactly the Blackhawks are looking for in their next GM. Here was his response:
"We're looking for a next generation leader for our organization," he said. "Someone that comes in that understands what it takes to win and put together a winning team. All the things you would expect. But I think with any leadership, you're also hiring for character and for values, which of course is our premium we put on anyone we bring into the organization. One of the things we will be asking every general manager that comes into the interview process is: 'How are they going to help change the culture of hockey?' I think it's critical for anybody in a leadership position to set that example."
In the interest of transparency, the Blackhawks have been announcing which candidates have interviewed for the position and they will continue to do so as moving forward, although it's unclear if/how many more of them will be conducted. As of Thursday, the total is at six.
So let's keep a running tracker of every potential GM candidate with a little bit of background on each one, sorted by their interview date:
Kyle Davidson
Davidson is currently Chicago's interim GM and was the first candidate interviewed. He's been with the organization since 2010, where he began as a hockey operations intern and worked his way up to assistant GM of hockey administration before taking over as the interim GM following the front office overhaul in October.
Davidson is highly respected within the organization, and many believe he went into the process as the front-runner for the full-time gig. And deservedly so. He specializes in analytics, isn't afraid to make tough decisions — as evidenced by his decision to relieve head coach Jeremy Colliton and assistant coaches Sheldon Brookbank and Tomas Mitell of their duties earlier in the season — and is taking a realistic approach regarding the current state of the Blackhawks.
Eric Tulsky
Tulsky is in his eighth season with the Carolina Hurricanes and second as the assistant GM after previously serving as vice president of hockey management and strategy. He assists in all hockey-related matters and also oversees the team's hockey information department.
Tulsky is another candidate with a strong background in advanced stats. When he was hired full-time by Carolina in 2015, then-executive vice president and GM Ron Francis called Tulsky "an extremely intelligent person and has been an innovator in the field of advanced analytics."
It's only a matter of time before Tulsky becomes a general manager, whether that's in Chicago or somewhere else.
Scott Mellanby
Mellanby had a terrific NHL playing career, amassing 840 points (364 goals and 476 assists) in 1,431 games across 21 seasons. He was drafted in the second round (No. 27 overall) by Philadelphia in 1984.
Following his retirement, Mellanby worked as a special consultant to the general manager and hockey operations department for three years with the Vancouver Canucks and also spent two seasons as an assistant coach for the St. Louis Blues. He most recently served as the assistant GM of the Montreal Canadiens, who hired him in 2012 to be their director of player personnel before his promotion two years later. He resigned as the assistant GM on Nov. 27, 2021, one day before Marc Bergevin was fired as the GM.
Mellanby has never been a general manager but he's been around the league long enough to know how things operate. His name always comes up when there's a GM opening, and one of these days he's going to get it.
Peter Chiarelli
The only candidate that has experience being a full-time GM at the NHL level is Chiarelli, who was hired on in October of 2021 to be the vice president of hockey operations for the St. Louis Blues. Before that, he served as the GM of the Edmonton Oilers from 2015-19 and most notably the GM of the Boston Bruins for nine seasons, where he helped build a Stanley Cup-winning roster in 2011.
If the Blackhawks are looking for experience over youth, Chiarelli is obviously someone that will get strong consideration. But it would certainly be a controversial hire, given his questionable trades and signings over the years.
Jeff Greenberg
This was an interesting name to see, although we weren't totally surprised by it because the Blackhawks made it known ahead of time that they were going to interview candidates outside of hockey. Greenberg currently serves as the assistant GM of the Chicago Cubs, where he began as a baseball operations intern in 2012. His path is similar to Davidson's.
Wirtz was asked by NBC Sports Chicago's David Kaplan on Wednesday why Greenberg's name is part of the mix. Or, more specifically, why candidates without a hockey background are being considered.
"You learn about how they approach player evaluation and scouting systems and player development, all the things that go into player performance and biometrics," Wirtz said. "These are very advanced concepts that different sports have led in different ways and so it's just good diligence for us to really understand how other sports are approaching these things because look, we want to win and we will look for every possible chance to have competitive advantage.
"And so I think you would think less of me not to look under every rock to find some of that insight that could help us get back to winning championships."
Mathieu Darche
Darche is currently the director of hockey operations for the Tampa Bay Lightning, where he was hired by the team in 2019. He assists in all aspects of player personnel decisions, analytics, player development, contract preparation and negotiation, budgeting, scheduling and cap tracking.
Darche was also in the running for the GM positions in Montreal and Vancouver, so his name is certainly drawing attention. He's very well-respected within the hockey community.
Copyright RSN