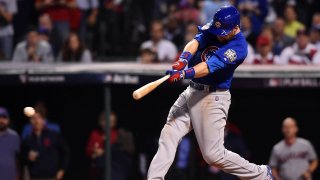 Zobrist's Cubs World Series ring up for auction originally appeared on NBC Sports Chicago
A precious piece of Cubs history is on the market.
Ben Zobrist's 2016 World Series ring is up for auction.
It was not immediately clear who was in possession of the ring and making it available for auction.
Zobrist spent four seasons with the Cubs (2016-19) and came up with one of the biggest hits in franchise history. His double in the 10th inning in Game 7 of the 2016 Fall Classic gave the Cubs a 7-6 lead.
Of course, they went on to win 8-7 to clinch their first championship in 108 years. Zobrist was named the series' MVP.
With the history behind that World Series, it could be one of the most valuable championship rings to go on the market.
Copyright RSN