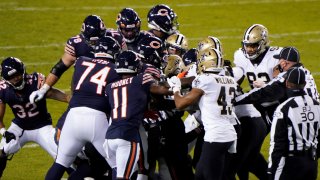 Javon Wims should be cut after punching Saints defender originally appeared on NBC Sports Chicago
Javon Wims was ejected for going ballistic against Saints defensive back C.J. Gardner-Johnson. Well after a whistle had blown on the Bears' first drive of the second half, Wims ran over to Gardner-Johnson and punched him twice.
Even if Wims was provoked, it was completely unacceptable. Set aside how the penalty ruined a Bears drive, the attack itself could be considered assault, and Wims should be cut-- not just suspended.
Wims made headlines last year after he got into a fight with Prince Amukamara during training camp. At the time the team brushed it off as simply tempers running high during a competitive practice. The Bears said they handled it internally, but apparently they didn't handle it well enough. As this is the second such incident for Wims, the front office should have zero tolerance for the violent outburst.
During our Football Aftershow Sidecast, Alex Brown and Olin Kreutz couldn't believe what they had seen.
"That was the dumbest thing I've ever watched on a football field," Kreutz said.
Brown agreed and predicted Wims would be cut after punching Gardner-Johnson.
"Gone," Brown said. "You can't have that. Either you're allowing that s*** to happen, or you're teaching it. He needs to be gone."
More discipline for Wims is likely to be meted out this week.
Copyright RSN