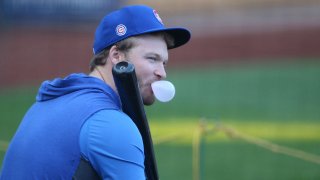 All-Star gazing: 5 Cubs worthy of game that wasn't played originally appeared on NBC Sports Chicago
No fans, no runs, no mas for the Cubs.
That was the story of their gone-in-a-blink postseason run and even for a lot of their strange, short, pandemic regular season.
But we're here to fill in the blanks for at least one significant part of the middle of the season that went missing this year — mostly because, well, there was no real middle of the season after a four-month shutdown.
Specifically, the All-Star selections that never were in a season too late and too short to cram in a Midsummer Classic.
So which Cubs played well enough for nine weeks to earn consideration?
None if you're talking about the starting lineup — unless you make a case for Cy Young candidate Yu Darvish.
Good luck trying to make the case for a Cub hitter in a National League All-Star lineup that would look like this in a just world: 
Catcher J.T. Realmuto, Phillies; first baseman Freddie Freeman, Braves; second baseman Jake Cronenworth, Padres; third baseman Manny Machado, Padres; shortstop Fernando Tatis Jr., Padres, outfielders Mookie Betts of the Dodgers, Mike Yastrzemski of the Giants and Juan Soto of the Nationals; and designated hitter Marcell Ozuna, Braves.
But at least five Cubs merited consideration based on their two-month bodies of work.
Copyright RSN