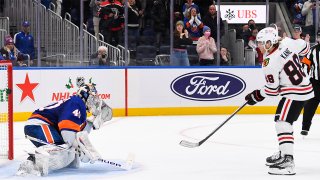 10 observations: Blackhawks bounce back with shootout win originally appeared on NBC Sports Chicago
ELMONT, N.Y. — The Chicago Blackhawks knocked off the New York Islanders 3-2 in a shootout at UBS Arena on Sunday.
Here are 10 observations from the win:
1. The Islanders fell to 0-8-3 in their last 11 games. They have six straight losses at home and are still searching for their first win at UBS Arena.
2. Dylan Strome broke the 1-1 tie at the 5:59 mark of the third period for his second goal of the season and he let out the biggest celly. It almost stood as the game winner but Noah Dobson tied the game up with 2.3 seconds left in regulation. Nevertheless, that must've felt really good for Strome.
3. Brandon Hagel was credited with a power-play goal in the first period and scored for the eighth time this season, moving into sole possession for second on the team. He's now on pace for 31 goals this season.
4. Marc-Andre Fleury was terrific, yet again. He stopped 22 of 24 shots for a save percentage of .917 and all three in the shootout.
5. The Blackhawks had 5:29 of offensive zone possession time against the N.Y. Rangers on Saturday, per Sportlogiq. They had 5:30 of offensive zone possession time through two periods against the Islanders and finished with 7:29. That's more like it.
6. The Blackhawks had four shots on goal in the second period. Only one of them came at even strength; the other three were on the power play.
7. The Blackhawks gave up 14 scoring chances off the rush on Thursday against Washington. They allowed only three against the Rangers and two against the Islanders. Another positive step.
8. Kirby Dach hasn't scored a goal in 17 straight games now, but he should've had a couple on this road trip. At one point on Saturday, he had the entire top half of the net to shoot at but his shot went off the goaltender's face mask and out of play. On Sunday, he had a point-blank opportunity from 7-feet out but it was stopped. He sat at the bench while his head down afterwards and you could clearly see that the goal drought is weighing on him.
9. Jean-Gabriel Pageau won 16 of 19 faceoffs for a win percentage of 84.2. He dominated the Blackhawks at the dot.
10. Riley Stillman returned to the lineup after missing the last five games with a left knee injury. He replaced Wyatt Kalynuk, who was assigned to the Rockford IceHogs of the American Hockey League on Sunday morning.
Copyright RSN