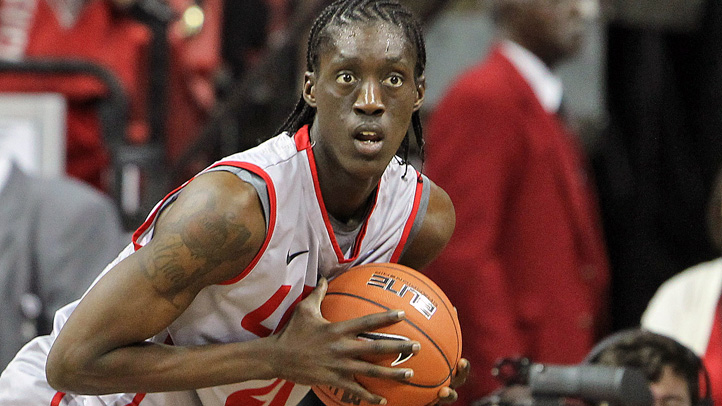 The Chicago Bulls selected New Mexico's Tony Snell with the 20th pick in the NBA draft on Thursday, adding help on the perimeter.
The Bulls decided to go with a wing player rather than a big man and grabbed a 6-foot-7 guard who is considered a top-notch shooter.
Snell converted 39 percent of his 3-pointers while averaging 12.5 points as a junior for the Lobos last season and helps fill a big need on the outside for Chicago. He is considered a solid defender who can guard multiple positions, which had to please coach Tom Thibodeau.
The Bulls also held the 49th pick Thursday night.
Snell joins a team eyeing a return to contention in the Eastern Conference with star Derrick Rose poised to return from his knee injury. The former MVP sat out last season after having surgery to repair a torn ACL in his left knee.
How effective he'll be at least at the start remains to be seen. But Rose's return makes the Bulls far more compelling after a 45-win season in which they were in more of a holding pattern, waiting for the return of a superstar that never happened.
Just about every other key player got banged up at some point, and the ailments continued to add up in the postseason. Even so, the Bulls still managed to knock out Brooklyn in the first round before bowing to eventual champion Miami in five games.
There were a number of ways the Bulls could have gone in the draft,, given their need for another big man to support Joakim Noah and their issues on the perimeter. Chicago ranked 21st in 3-point accuracy, and there's a chance Marco Belinelli could land a bigger role with another team and leave as a free agent, so the Bulls went with Snell.
They could still use another big body given Noah's plantar fasciitis in his right foot and the departure of Omer Asik to Houston as a free agent, and at least one prominent fan made it clear he thought that was the direction the Bulls should go.
During a toast at a state dinner in Dakar on Thursday, President Barack Obama said he hoped the Bulls drafted Senegal's Gorgui Dieng. He called the 6-foot-11 shot-blocking and rebounding force from Louisville an "outstanding big man" and added "maybe the Bulls will get him." Dieng wound up being drafted by Utah at No. 21.
About the only certainty coming in was the Bulls needed to land a contributor with their first-round pick, given that they have no cap room and are above the expected luxury-tax threshold. They owe core players Rose, Carlos Boozer, Luol Deng and Noah nearly $60 million next season, meaning any additions they make will have to come on the cheap and adding a rotation player in the draft is key.
To that end, they've had some success in recent years with lower first-round picks, with Taj Gibson at No. 26 in 2009 or Jimmy Butler at No. 30 in 2011. The jury's still out on Marquis Teague, who showed some glimpses after being taken with the 29th pick a year ago.
Copyright AP - Associated Press