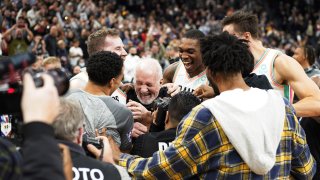 NBA community congratulates Gregg Popovich on record 1,336th win originally appeared on NBC Sports Chicago
Gregg Popovich now stands alone as the winningest coach in NBA history.
With the Spurs' 104-102 win over the Utah Jazz in San Antonio on Friday night, Popovich secured his 1,336th career regular-season victory -- the most in NBA history.
The five-time NBA champion head coach tied Don Nelson for first on Monday with a win over the Los Angeles Lakers. Popovich reached 1,335 wins in 370 fewer games and five fewer seasons than Nelson did.
With a 1,336-694 record, Popovich boasts the eighth-highest winning percentage of all time at .658. Among coaches with at least 1,000 victories, Popovich only trails Phil Jackson's .704 winning percentage.
Following his historic win on Friday, Popovich received congratulatory messages from many within the NBA community, from Don Nelson to Spurs great Manu Ginobili and NBA commissioner Adam Silver.
Copyright RSN