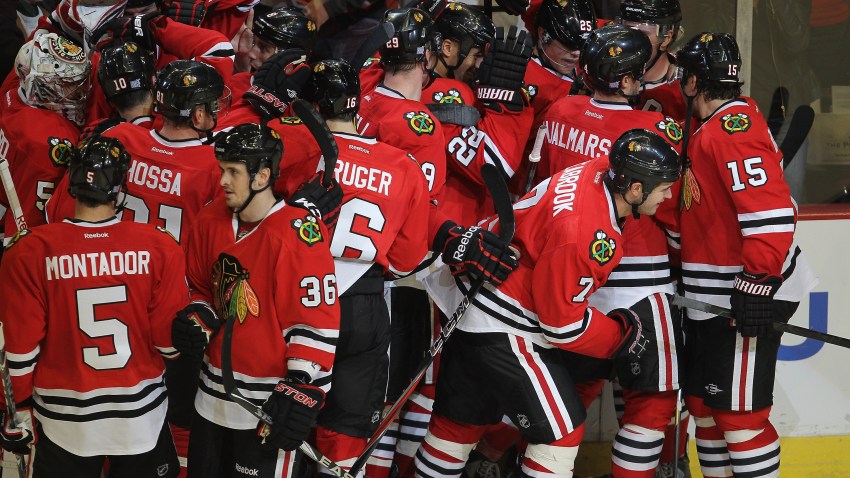 Ah, back to NHL hockey.
The Hawks return home to find a waiting Calgary Flames squad tonight at the United Center. The Hawks have been pretty good the past few years in these back-to-back situations, and they haven't lost in regulation in three attempts this year. They also get the added bonus of playing a team that hasn't beaten them here in four years, and one that's struggling.
Stil, the Hawks faced both the Tampa Bay Lightning and Vancouver Canucks when they had six wins and seven losses, as the Flames do, and those didn't go the Hawks way. While a dominant win was what was wanted off the drive-thru menu in Columbus, the fear that the Hawks will return to their non-chalant and sloppy ways against a team everyone knows they should beat always lurks in the shadows.
Calgary comes in last in their division, and are hurtling towards a massive rebuild of an aging and over-compensated squad. They don't have a lot of scoring outside of legend Jarome Iginla and his linemate Alex Tanguay. There isn't a real center to be found on this squad.
But the Flames are getting very good goaltending from both Mikka Kiprusoff and Henrik Karlsson. #1 Kiprusoff will go tonight. In the past, the Flames have run Kipper into the ground with 70+ starts per season. They're going to try and curb that this year as he runs deeper into this 30's, but this early in the season no fatigue should have set in. Couple that with the Flames having been off since Tuesday, and the Hawks will see a pretty fresh squad.
The plan in the past for the Flames is to physically impose themselves on the Hawks, but they carry such a lack of speed they can't really catch the Hawks to do so. And while they'd like to keep the game against the boards, their defense has been so awful that may not even be a possibility. The Hawks have a huge speed advantage against the Flames, when they're on they leave the Calgary players chasing shadows. If the Hawks are disciplined and keep Tanguay and Iginla from scoring, the Flames will really struggle to keep up.
This is the first of two home games this weekend before the Hawks embark on the annual Circus Trip, where we'll probably learn exactly what the Hawks are these days. You want to head into that trip with as many points in the bank as you can, so four of four this weekend is pretty much a must. This is the easier of the two.