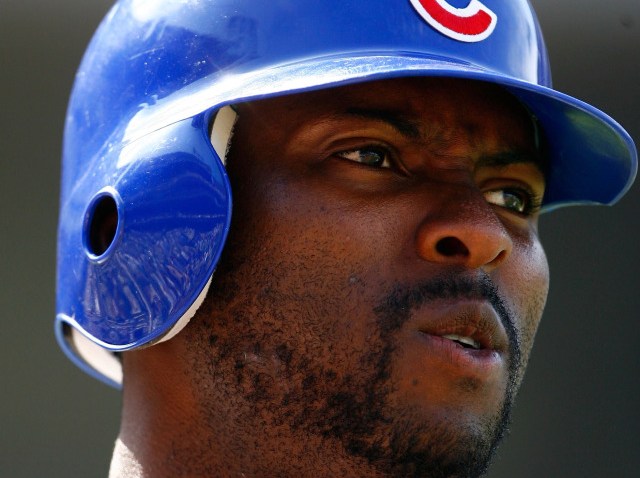 Milton Bradley is damaged goods, but he still has plenty of buyers.

That's the consensus emanating from the Hot Stove these days, where rumors about where and when Cubs GM Jim Hendry will eventually unload disgruntled Cubs outfielder Milton Bradley have been flying for days on end. Bradley's heading to the Blue Jays! (No, he's not.) Bradley's going to Tampa Bay! (Not yet, anyway.) And on it goes. As the winter meetings, baseball's annual collection of whiz-kid sabermatricians and the hard-drinking old-guard, commences, Bradley will be item No. 1. But who would want him?

Turns out, plenty of teams. Besides the aforementioned Blue Jays, who were looking to give up their own untradeable Vernon Wells, and the Rays, who were willing to possibly part with the now-traded Iwamura and perhaps Pat Burrell, there are a whole host of teams interested in Bradley's services. According to Fox's Ken Rosenthal, they include the Giants, Padres, Rangers, Blue Jays and Mets, and those are just the teams he mentions. There could be more. We'll know once the general manager's meetings begin at an hotel near O'Hare.

Sure, it's all still speculation, and clearly nothing's come of it yet. But given the breadth of interest and the way the winter meetings seem to accelerate the dealmaking process, it would be surprising if Bradley wasn't moved by the end of next week. Given how untradeable The Angry One once seemed, that qualifies as a minor miracle.

Eamonn Brennan is a Chicago-based writer, editor and blogger. He is the editor of Yahoo! Sports's college basketball blog The Dagger and a contributor to Inside The Hall. Follow him at his personal site, eamonnbrennan.com, or on Twitter.
Copyright FREEL - NBC Local Media