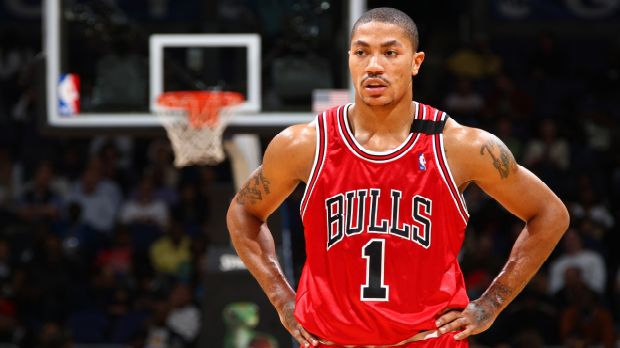 Bulls. Spurs. Tonight.
It's the season opener. A win would be great, but an NBA season is a long slog; what's more important is what the Bulls do over the course of this season to progress for next year. (Specifically next summer, when the free agent bonanza begins.)
So, here are the five big storylines to watch this Bulls' season. Saddle up:

1. Just how good is Derrick Rose?

Elite point guards usually take a big leap in their second year, and Derrick Rose paved the way for a breakout season after a brilliant playoff debut against the Celtics last spring.

Rose has MVP-level natural talent. He's already a great slasher, scorer, and passer. There are two questions surrounding his game as he enters his second year.
The first is his shooting -- can Rose's intense offseason workouts extend his range and force teams to guard him away from the basket? The second is his defense. Rose is quick enough to be a lockdown defender, but he's nowhere close yet. Can he guard his position on defense as well as he plays it on offense? If he does, he'll be among the league's elite players in no time.



2. The return of Luol Deng.
There was a time when Deng was Derrick Rose, minus a little hype and lot of athleticism. Since then, Deng signed a major contract extension and promptly flopped. (Meanwhile, the Bulls denied the same extension to Ben Gordon, who has been plenty productive in the interim.)
Deng needs not only a healthy season in 2009-10, he needs a productive one. There was a time when the Bulls wouldn't trade Deng for Pau Gasol or Kobe Bryant. Deng needs to start earning that rep, and immediately.

3. The continuing education of Vinny Del Negro.
To the casual fan, Del Negro's first year as a coach might have seemed successful. After all, the Bulls made the playoffs, right? But anyone that watched Del Negro coach every night last year witnessed a deeply confused performance; most of Del Negro's major decisions seemed to come directly from his assistants, which is never a good sign.
There is a reason for this: The Bulls hired Del Negro last year without a single year of coaching experience at any level. So what's the learning curve? And if Vinny is still so confused in two months, can the Bulls pull the trigger?

4. Frontcourt and center.

The Bulls' two young big men -- Joakim Noah and Tyrus Thomas -- likewise played some of their best pro basketball in the Celtics series last spring. Thomas improved his shooting and became a suddenly (and horrifyingly, for Bulls fans that kept wondering why he was shooting) offensive player, capable of more than the occasional highlight block and streaking dunk.
Meanwhile, Noah's game almost perfectly complements Thomas's; where Thomas is athletic and flashy and prone to inconsistency, Noah is solid and defensively oriented and altogether unremarkable. Together (and with support from wily vet Brad Miller) they could form a very sturdy young frontcourt.

5. The summer of (financial) love.
In the summer of 2010, the draft class of 2003 become free agents. This includes LeBron James, Carmelo Anthony, Dwyane Wade, Chris Bosh, and a host of others. (Darko, too. Never forget about Darko!)
The Bulls have money to spend on one of these free agents, and pairing any of them with Derrick Rose and the current nucleus should theoretically place the Bulls at the top of the East for years to come. Bulls brass, along with at least 10 other NBA teams, have been nursing their salary cap situations in preparation for 2010 for years. So who will it be? If it's going to be anyone, the Bulls will have to prove desirable -- and that means looking like a potential title squad -- in 2009.

Eamonn Brennan is a Chicago-based writer, editor and blogger. He is the editor of Yahoo! Sports's college basketball blog The Dagger and a contributor to Inside The Hall. Follow him at his personal site, eamonnbrennan.com, or on Twitter.
Copyright FREEL - NBC Local Media