This morning, the Chicago Blackhawks announced that President John McDonough has been promoted to CEO and President. What this means in terms of day-to-day operation and how it affects the fan like you and me is probably minimal. Unless you're the one who has to print his new business cards, and I don't imagine that will take too long anyway.
Hawks fans have a funny relationship with McDonough. I know I do, and I can hardly explain why. I think the first thing Hawks fans don't like is his previous affiliation with the Cubs. I don't know the numbers on this, but I've always suspected that a majority of Hawks fans are White Sox fans as well, and anything that came shrouded in blue was always going to be suspicious to them. And all Hawks fans worried about a Wrigley atmosphere being brought over to the United Center, where the action on the field was of less concern than the beverages and females in the stands.
I've never had that fear. To me, McDonough had to promote the atmosphere of Wrigley when he was marketing director over there because there was no product on the field. It was his job to get people through the turnstiles, and for most of his tenure the Cubs wercouldn't play dead. He did what he had to do. People forget that when he took over as President of the Cubs after the 2006 season, the first thing he said was, "...win the World Series. Then win it again." He did the same thing when joining the Hawks soon after. "Winning is our best marketing tool. Stanley Cups." While he's been quick to get out there to be applauded, he's never strayed off-message. And he kept his promise, didn't he?
Some Hawks fans feel uneasy that his hands get into on-ice decisions. I know I do. While he says he's never been involved, he was also quoted as saying that in their first summer running the team the Hawks had to make a splash. They had to let the rest of the league know they were going to be a destination and not a departure point or retirement home anymore. Some have taken that to mean that then-GM Dale Tallon was forced into buying the shiniest things on the market, which were Brian Campbell and Cristobal Huet. Nevermind that Tallon chased Campbell at the previous season's deadline. Though I wonder about this too.
There was the torpedoing of Tallon, who in no way would have been directly in charge of mailing qualifying offers, but fell on his sword anyway so McD could hire his trusted advisor's son, Stan Bowman. Some didn't like the firing of Denis Savard a mere four games into the season, but how could one argue with that now? Some don't like the new 300-Level bars, and see too much brick and ivy in them, and I guess I get that.
But it basically boils down to the fact that fans never, or rarely, warm up to their team's executives. Rocky gets his name chanted at the UC. but his last name is still Wirtz, which makes us wary. And McDonough is the only one to be the target, I guess. While I still remain guarded, I certainly can't argue with anything he's done. And he was President when the team brought home something I dared not even dream about for so long. So we all have to be grateful, at least somewhat.
Oh, and thanks for not having me arrested while selling The Committed Indian outside the UC, John. You're a real peach.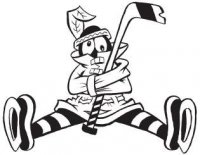 Sam Fels is the proprietor of The Committed Indian, an unofficial program for the Blackhawks. You may have seen him hocking the magazine outside the United Center at Gate 3. The program is also available for purchase online. Fels is a lifelong 'Hawks fan and he also writes for Second City Hockey .