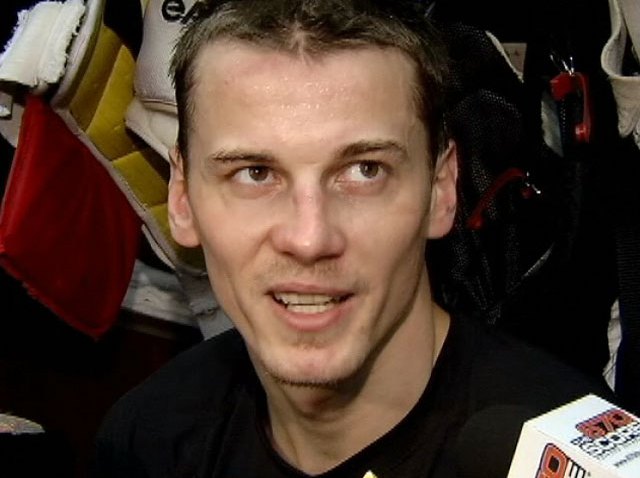 Tomas Kopecky will never be viewed as anything but a running mate in this town. He signed on the same day Marian Hossa did, for reasons we couldn't figure out then and can't figure out now, really. They're always together. They're both Slovakian. They end up on the same line more often than not, even though Kopecky rarely proves to be a top six forward. And they arrive to practice together all the time. It's weird. Unfortunately for Tomas, he may have to find out soon what life is like without Marian.
Positives: It's hard to ignore a player who doubled his career high in one season, as Kopecky did with his 42 points this season. His 15 goals were also a career high. Tomo Kop was also one of very few Hawks who did most of their work within five feet of the net. Whether he did it well or not is up for debate but at least he was there, which is more than you can say for a lot of Hawks. Especially in the season's first month, his work there opened up a lot more space for the Man on Fire Act that was Marian Hossa then. Kopecky also did his best to engage physically every game, and tried really hard to be a pest. The Hawks probably could have used more of that.
Negatives: Despite the career numbers, there are enough warts here to make an evil witch blush. Kopecky was horrible defensively, as his -13 would suggest. Though he tried to be physical, he's not strong or fast enough to make it count. His goal and point totals were inflated by Hossa's wonderful first month, and past that he was awfully streaky. Was deployed at center far too often where he couldn't win a draw if the Rapture depended on it and his defensive frailties were abused. While he did his best to annoy others, the league knows that Kopecky won't fight to back it up due to a broken face suffered in the playoffs of '09, so it doesn't annoy that much. Did his best work on the 4th line, where he's simply an odd-fit. While he was in front of the net a lot, was too easily cleared out of there.
Contract Status: Unrestricted Free Agent
Keep Him or Ship Him: Goner. Kopecky's numbers are going to lead to a much bigger paycheck than he's actually worth. He isn't skilled enough to consistently man your top six, which he may get paid like. He's not that quick, his hands are not quite that good, and while he's got a nice shot he needs an eternity and all the space in Montana to get it off. He isn't defensively strong enough to be on a checking line, and not physical or strong enough to be an energy guy on the 4th line. Kopecky doesn't really fit in anywhere, just fills in everywhere. That was fine when he was only paid $1 million or so, but not when he clears $2 million or more as he might now on the open market. The Hawks have options coming up through the system, and there are more attractive ones out there to do whatever it is you decide Kopecky does. And that's not the easiest task.