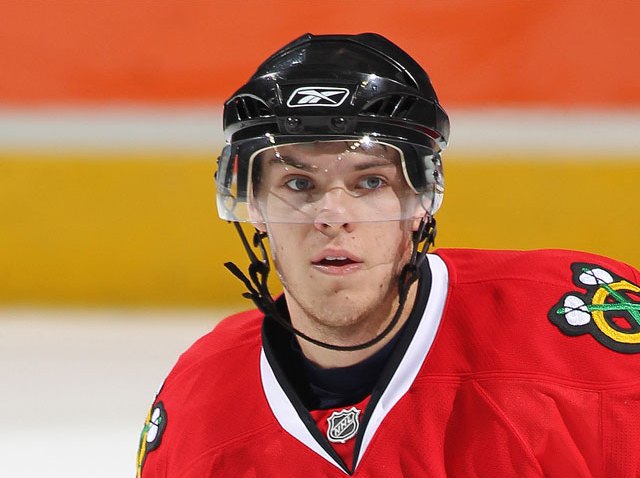 Morin should probably be reserved for the review of the Hawks prospects that's coming at the end of everyone's report card, but based on his brief appearance this season, the Hawks continually high valuation of him, and his likely roster spot next year, we'll put him here. And he still had more games at the top level than Marcus Kruger or Ben Smith, who ended the season with the Hawks.
Positives: Morin from jump street in training camp showed offensive instincts that you simply can't teach. He has a nose for the net, soft hands, and a wicked release on his shot that he can get off just about any time. He also knows where to find the open spaces to be a threat, and again that shows instincts of a player who could be a real force one day. Morin displayed a north-south game as well that more Hawks could have employed at times. He wasn't afraid to get his nose dirty as well, being physical and working along the boards even though he doesn't have a lot of size or bulk yet. Even engaged in a fight, but that didn't go so well. Oh, and they didn't start his contract clock yet so he has at least three more years in the organization, unless he is traded. But considering he was the prize in the Dustin Byfuglien deal, Morin is certainly in the plans.
Negatives: Health, first and foremost. Morin suffered a nasty injury in January while playing for Rockford where he was flipped over and landed squarely on his head. Aside from any possible neck injury, there was never an official word on what it was, this was not Morin's first concussion. And any young player who has had multiple concussions is always a risk. It won't take much to knock Morin out for a long stretch again next year, wherever he is. He'll need to get bigger too, as the simple, physical game he wants to play is going to require more than the 185 pounds he's carrying now.
Contract Status: On his entry level deal for three more years at least, at a cap hit of $916K, plus bonuses.
Keep Him Or Ship Him: Definitely a keeper. Morin is going to have to go out of his way in training camp, or have his health ever improve, to not start next year with the Hawks. He is rated highly by both Stan Bowman and Joel Quenneville, and unless the Hawks sign a couple wingers he will get his shot. There are openings amongst the Top 6 forwards, especially if Troy Brouwer and Tomas Kopecky are not retained, which is where Morin projects. It would be a waste to have him on the 4th line as he's not an energy player. He also would be an odd fit on a checking line with Dave Bolland and Michael Frolik (as that's the likely layout), as that's not his game. Probably could use more time in the AHL, but unless it's a truly busy offseason and/or Morin fills his pants in September, his name will be introduced on opening night.