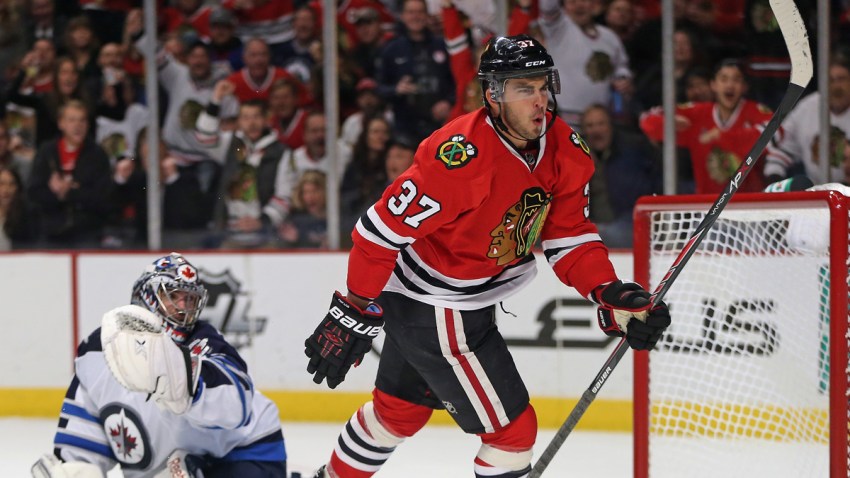 Every week, Madhouse Enforcer will take a look around the Central Division and let you know who's hot and who's not in our little corner of the hockey world.
1 (Last Week's Rank: 2): St. Louis Blues
In a week that featured two road games and two home games against divisional opponents, the Blues didn't miss a beat, going 4-0 and picking up key wins over the Boston Bruins and Minnesota Wild.
Overall on the season, the Blues have one of the league's best defenses, but they are also scoring goals in bunches thanks to some surprising scorers like Alex Steen. They won games against the Wild and Dallas Stars by a combined 9-1 total, and made both victories look easy. Road games this week against the Colorado Avalanche and San Jose Sharks will be a great test for a team that has aced most of their exams so far this season.
2 (Last Week's Rank: 1): Chicago Blackhawks
After starting out their circus trip with a blowout loss to the Avalanche, the Hawks have won three consecutive games in the Canadian portion of their journey, including blowouts against the lowly Jets and Oilers and a surprising 2-1 win over the Vancouver Canucks on Saturday night.
The Hawks are getting stronger too, with Michal Handzus returning to the lineup after missing 14 games, and Marian Hossa will likely be rejoining the team after missing a couple of games taking care of family matters in the Windy City. Games this week against the Stars and Coyotes to wrap up their seven game road trip will be a great final challenge for a team that has proved to be a solid road club this season.
3 (Last Week's Rank: 4): Colorado Avalanche
After dropping three straight games last week, the Avalanche dropped a couple of spots in our power rankings, but they roared back in a big way with three victories over potential Western Conference playoff teams, including a blowout over the Hawks and a shutout of the Los Angeles Kings at the Staples Center.
Looming ahead on their schedule this week are games against the Blues and a home-and-home series against the Wild on Friday and Saturday. If they can get through those contests with four or more points, then perhaps it will convert some of those folks that are still doubting their ability to contend for a playoff berth this season.
4 (Last Week's Rank: 3): Minnesota Wild
After racking up four straight wins the week before, the Wild had an up and down road trip last week, losing to the Canadiens and the Blues in lackluster fashion but knocking off the Senators and Jets to salvage four points out of the trip.
Unfortunately for the Wild, things aren't going to get any easier for the remainder of this week. Zach Parise sustained a foot injury against the Blues on Monday night, and while his status for Wednesday's game against the Coyotes isn't clear, he will likely be hampered by the ailment. With two games this week against the Avalanche, the Wild can't afford to lose ground in what has been one of the league's tightest divisional races.
5 (Last Week's Rank: 6): Nashville Predators
Not having Pekka Rinne hasn't been much of a problem for the Predators lately, as they have won four of their last five games in recent weeks. Marek Mazanec has been an absolute beast in net for the Predators, giving up only 10 goals in those five games as the Predators have slowly clawed their way back up from the division basement.
After a road game against a Blue Jackets team that has been one of the most inconsistent in the NHL this season, the Predators will return home for games against the lowly Oilers and the Flyers to wrap up the week, and it will be crucial for them to bank some points before their schedule gets more difficult as December wears on.
6 (Last Week's Rank: 5): Dallas Stars
The Stars had a light schedule last week, but despite the momentum they had built from a three game winning streak, they still dropped both contests, losing to the Rangers and home and the Blues on the road to go 0-for the week.
Things aren't about to get easier for the Stars either, as they will have to deal with two divisional leaders on home ice this week as the Ducks and Blackhawks come to town. They do get a reprieve with a home game against the Oilers Sunday, but then they had back out on the road next week to take on the Hawks again. Needless to say, they have to hope that Kari Lehtonen works his way out of the funk he's been in for the past few games.
7 (Last Week's Rank: 7): Winnipeg Jets
The Jets have been a consistently underachieving bunch this season, and they continued down that path last week with three losses in a row. They did manage to beat the Devils on Monday to end that streak, but they are still allowing way too many goals, and the poor play of Ondrej Pavelec has to be driving Claude Noel crazy.
Winnipeg will continue their six game road trip this week with games against the Islanders and Flyers, but the real meat of this trip comes when they have to play the Rangers and Lightning next week.