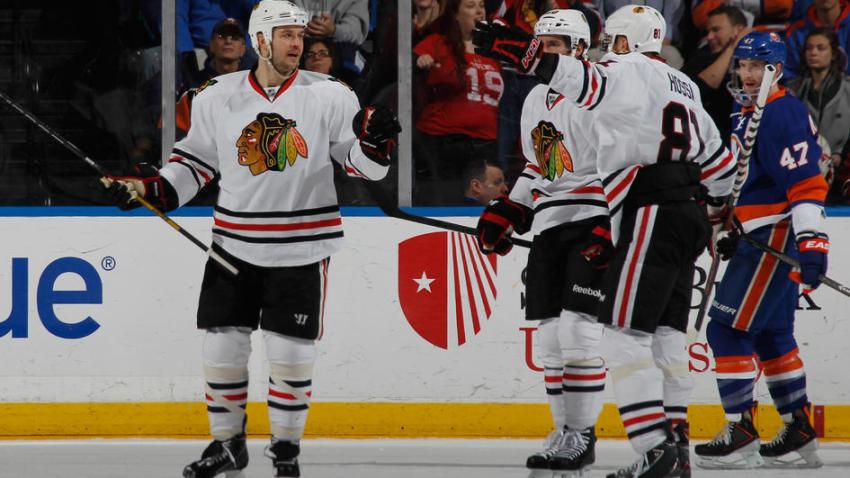 Every week, Madhouse Enforcer will take a look around the Central Division and let you know who's hot and who's not in our little corner of the hockey world.
1 (Last Week's Rank: 1): St. Louis Blues
The Blues still trail the Blackhawks in the Central, but they are only four points back and have four games in hand, so they'll continue to hold onto the top spot this week. Wins against the Kings and Blue Jackets on home ice solidified their spot at the top of the ranking, and the continued excellence of Brian Elliott in net for the defensively-strong Blues has got to make them one of the league's biggest Stanley Cup favorites.
Coming up this week for the Blues is a three-games-in-four-nights swing through western Canada, starting with the lowly Oilers on Tuesday and then proceeding to Calgary and Vancouver to finish it off. Only the Vancouver game really stands out as a big challenge, but the Flames did knock off the Avalanche in come-from-behind fashion on Monday, so it's possible they could give the Blues a run.
2 (Last Week's Rank: 2): Chicago Blackhawks
Ever since a three game losing streak at the beginning of December, the Blackhawks have grabbed at least a point in 14 of their last 15 games, and are currently on a 10 game point streak. They did lose in overtime to the Islanders on Thursday and in a shootout to the Sharks on Sunday, but they did get some good news this week as Corey Crawford returned from injury and looked to be in very good form in that game against San Jose.
Coming up for the Blackhawks are a couple of games against Original Six foes, as they welcome the Rangers to the United Center Wednesday and then travel to the Bell Centre to take on the Canadiens Saturday. A home date against the Oilers will finish up their week.
3 (Last Week's Rank: 3): Colorado Avalanche
The Avalanche have had a season marked by great goaltending so far, but there is some acrimony beginning to form as coach Patrick Roy is not happy with the play and attitude of Jean-Sebastien Giguere following the team's 4-3 loss to the Flames Tuesday. There is some good news in Denver though, as first overall pick Nathan MacKinnon has four goals in his last two games and has really rounded into form both at even strength and on the power play.
Unfortunately for Colorado, MacKinnon did have to have X-rays after he was hit by a slapshot off the stick of teammate Erik Johnson in the game, so Avs fans will have to wait with bated breath to hear about his status. Games against the Senators and Islanders this week will also give Colorado a bit of a breather.
4 (Last Week's Rank: 4): Dallas Stars
The New Year has been anything but happy for the Stars, as they have been outscored 18-8 in three straight losses, and their penalty kill has been especially pungent lately, giving up seven goals in their past five games.
Dallas will have to try to regroup after a brutal loss to the Islanders as they continue a Big Apple road trip with games against the Devils and Rangers, then head home to face those same Isles in the Lone Star State on Sunday night.
5 (Last Week's Rank: 6): Minnesota Wild
Even though the Wild were able to snap their six game losing streak with victories over the Sabres and Capitals last week, there is still plenty of bad news to go around. Josh Harding is still ailing, Zach Parise is on injured reserve, and he was joined by team captain Miiko Koivu on Monday, as the team announced that he'll be out of commission for about a month.
Greeting the Wild on the other side of that bad news are road games against the Kings and Coyotes, with a home game against the Avalanche to follow on Saturday. Mike Yeo is going to have a heck of a time holding onto his job if Minnesota can't ride out this storm, and things aren't looking very positive in that regard.
6 (Last Week's Rank: 5): Winnipeg Jets
Just when the Jets look like they have everything figured out (three game winning streak), they go and kick their fans in the stomach, losing three straight games by a combined 14-9 margin to the Senators, Bruins, and Penguins.
Home games await this week against the Lightning, Blue Jackets, and Coyotes, but with the inconsistent play and several players underachieving, it's reasonable to question whether or not Claude Noel is coaching for his job, or whether players like Evander Kane could be hitting the trading block soon as the Jets try to fix what's ailing them.
7 (Last Week's Rank: 7): Nashville Predators
Speaking of coaches who could actually be facing pink slips, Barry Trotz might be looking over his shoulder as the Predators struggle to get going in the right direction. Following a 2-1 loss to the Hurricanes Sunday, Trotz called out goaltender Carter Hutton, calling his effort "not good enough for this league."
As if things aren't bad enough for Nashville, they will be welcoming the Sharks and Ducks to Bridgestone Arena on Tuesday and Thursday. They will then wrap up the week with games against the Senators and Wild as well.