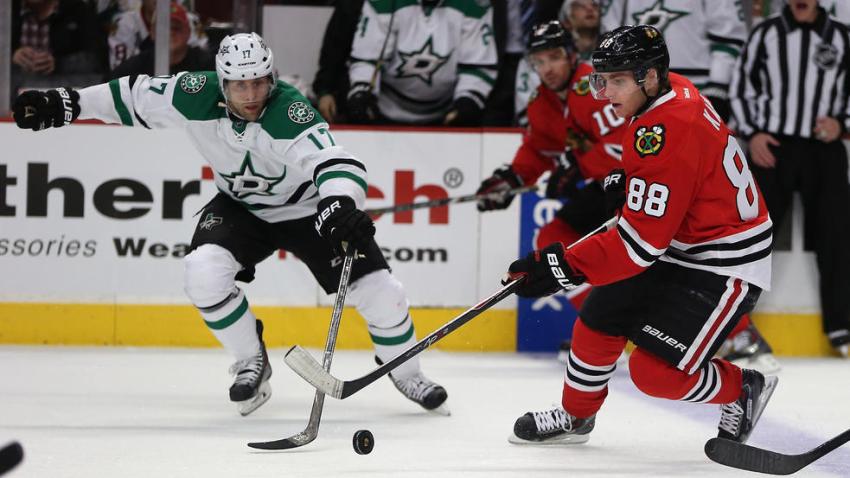 Every week, Madhouse Enforcer will take a look around the Central Division and let you know who's hot and who's not in our little corner of the hockey world.
1 (Last Week's Rank: 1): Chicago Blackhawks
The six-game winning streak they ended their annual circus trip on ended with a horrific thud last week, as the Hawks dropped three consecutive games despite outshooting their opponents 94-67 in the process. Their penalty killing unit has also continued to be a weak spot, with a combined four power play goals being scored against them in that three game losing streak.
The Hawks did right the ship with a convincing 6-2 victory over the Florida Panthers Sunday, but with road games against the Stars and Maple Leafs this week, as well as home dates with the Flyers and Kings, the Hawks will be tested in a big way as Corey Crawford recovers from the lower body injury he picked up in that Sunday tilt.
2 (Last Week's Rank: 2): St. Louis Blues
After winning five straight games towards the end of November, the Blues have been stumbling a bit lately as well, losing three of their last four games while still playing one of the most sparse schedules in the NHL. Their 5-2 loss to the Anaheim Ducks on Saturday was a bad one all around, with poor goaltending, bad shot selection, and an 0-for-5 performance from one of the league's best power play units.
Fortunately for the Blues, they'll have a chance to bounce back against a pretty weak schedule. They will take on the Jets and Blue Jackets on the road, and they also will have an interesting home game against the Maple Leafs on Thursday night.
3 (Last Week's Rank: 3): Colorado Avalanche
On the Avs' three game swing through western Canada, there was plenty to be disappointed about for Patrick Roy and company. Their 8-2 loss to the Edmonton Oilers was an embarrassing affair, with the Avalanche giving up three power play goals and going 0-for-6 on their own man-advantage situations. They did beat the Calgary Flames 3-2, but they fell to the Vancouver Canucks 3-1 to wrap things up.
The Avalanche have not scored a power play goal since November 21st against the Coyotes, going 0-for-20 in their last seven games. They will have a chance to get back into the swing of things with a rematch against those Coyotes on Tuesday night, and they will also battle the Jets and Wild to wrap up the week.
4 (Last Week's Rank: 4): Minnesota Wild
With the top three teams in the division struggling, the Wild were able to take advantage and gain some ground this week, picking up some big home victories over the Blackhawks and the San Jose Sharks (a game in which they were outshot 38-13 by the Sharks). They did have a bit of a hiccup against the Blue Jackets with Niklas Backstrom in the net, but Josh Harding has continued his absolutely stellar play, giving up four goals in three games for the week.
Up next for the Wild is a daunting stretch where they will play seven of eight games away from Xcel Energy Center. They get that road swing started this week with a murderer's row of games against the Ducks, Sharks, and Avalanche, and if they can somehow get three out of those six points, then it would be considered a big success for a team looking to prove that it belongs in the playoff hunt.
5 (Last Week's Rank: 5): Dallas Stars
The Stars have gotten at least a point in each of their last six games, but they haven't exactly been the paragon of consistency despite that streak. They picked up two victories last week over the Hawks and the Flyers, but the first victory came despite only managing 18 shots against the Blackhawks and being dominated in nearly every facet of the game. They racked up 50 shots in their next game against the Maple Leafs, but they still lost 3-2 in overtime.
Starting on Tuesday, the Stars will not only get a chance to overcome some of that inconsistency, but also will get a chance to gain some ground against Central foes. They will play five straight against the division, starting with Chicago on Tuesday and then hitting the road to face Nashville and Winnipeg to wrap up the week.
6 (Last Week's Rank: 7): Winnipeg Jets
In what has been a remarkably stagnant week in the Power Rankings, the Jets were able to move up a spot thanks to their modestly successful road trip that they just wrapped up. They ended up getting eight of a possible 12 points on the trip, including a nice overtime victory over the Tampa Bay Lightning on Saturday night.
Despite that solid trip, the Jets are still a maddeningly inconsistent team. Their penalty kill has been excellent lately, only giving up one goal in their last 17 tries, but their power play has still been anemic, not scoring in their last 18 opportunities. Game against the Blues and Avalanche this week aren't going to help the latter number, but a Saturday afternoon tilt against the Stars could be just the tonic they need.
7 (Last Week's Rank: 6): Nashville Predators
Okay, the Predators might finally be missing Pekka Rinne. Despite Marek Mazanec's best efforts, the Predators have hit the skids in a big way lately, losing their last five games and giving up a power play goal in each of their last three games. In total, they've given up 19 goals during this losing streak, and there are some serious questions arising about what Barry Trotz and company need to do to turn things around.
One of the guys who needs to step up is rookie Seth Jones, who is having a tough time getting on the scoresheet as of late, with only one assist in his last eight games. The struggling New York Rangers should provide a nice chance for Jones and company to turn things around, and home games against the Stars and Sharks will also give the team a nice challenge to shake them from their doldrums.