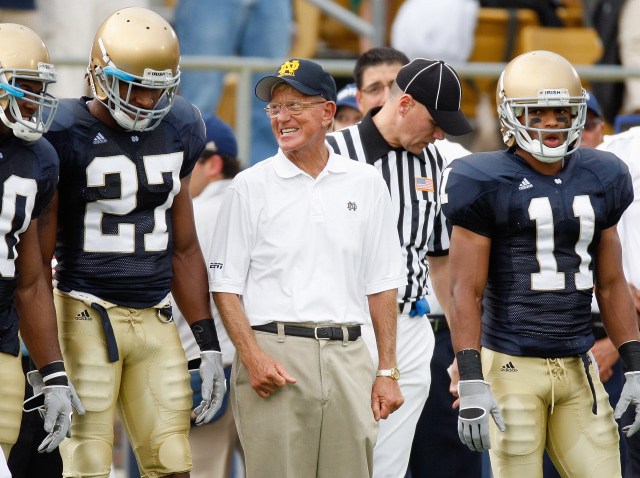 About two weeks ago, Lou Holtz predicted Notre Dame would -- get this! -- play for the national title in 2009.
There are several obvious reasons why Lou Holtz would say something like this: 1. Lou Holtz loves Notre Dame because he coached there. 2. Lou Holtz is out of his mind.

Today, he's trying to justify his madness:

"I didn't say they were the second-best team in the country, but I did say that when this is over they are going to have the best chance to play Florida in the championship game because they return 11 starters on offense," Holtz said Wednesday. "I mean, they have skill people. ... And on defense, their secondary is outstanding.

"You don't have to be the second-best team in the country. You just have to be the best team in the stadium each and every week."

OK, so there's a certain logic to that. That logic has more to do with how completely screwed up college football's manner of deciding its national championship contenders is. What other sport would someone say "you don't have to be the best team, you just have to win the most games!" as a manner of justifying a long shot pick?
That issue aside, Holtz is still nuts.

Don't get us wrong, Notre Dame has a ridiculously easy schedule this year. After years of playing some of the toughest opponents week-in and week-out, the Irish could make a run to the BCS on sheer strength of schedule. But that strength of schedule can also be something of a crutch, and the Irish seem unlikely to beat a more athletic USC team; one loss will penalize Notre Dame more than, say, Florida, who will play tough SEC opponents all season.

And anyway, Notre Dame has yet to prove itself on the field. One win over Hawaii in a non-BCS bowl does not a successful football team make. Remember, this is a team that very nearly lost to Navy again last year (thank goodness for that second on-side kick not bouncing Navy's way). To start making grandiose predictions about them merely from an easy schedule stretches all sanity. Which is par for the course at Notre Dame these days.

Eamonn Brennan is a Chicago-based writer, editor and blogger. You can also read him at Yahoo! Sports, Mouthpiece Sports Blog, and Inside The Hall, or at his personal site, eamonnbrennan.com. Follow him on Twitter.
Copyright FREEL - NBC Local Media