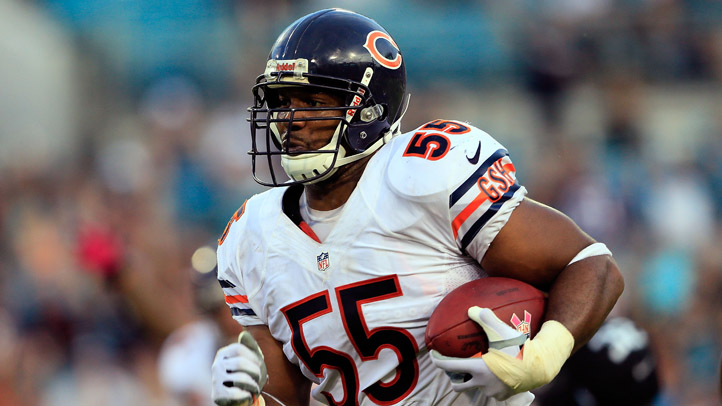 In the same game Jay Cutler tore his groin, Lance Briggs fractured his shoulder. Cutler has returned. Briggs has not.

The starting weak side linebacker has been ruled out for Sunday's Bears game in Cleveland.

The original diagnosis of six weeks is now seven weeks and could be more. NBC Chicago has learned Briggs suffered ligament damage around the broken bone that has not allowed the seven-time Pro Bowler to take part in practice until this week.
Briggs has led the Bears in tackles five of his eleven seasons and finished second to Brian Urlacher four times. Before the injury at Fed Ex Field on Oct. 20, Briggs led the Bears in tackles three times, including 14 against the Lions in Week 4, followed by 15 against the Saints in Week 5.

What he brings to the Bears defense is everything and anything.

"Shoot, where do you start?" defensive coordinator Mel Tucker asked. "It's not just the intangibles that he brings: leadership, experience, confidence. But he can actually make plays. He can win one-on-one. He can get off blocks. He can run sideline to sideline."
The Bears have struggled to replace Briggs' instincts and quickness, not to mention his experience on the field. The Bears have given up eight straight 100-yard rushers, and since Briggs went down the run defense has averaged more than 200 yards a game.

A once-proud defense that started the season ranked 16th overall has fallen to 27th in the league.

"It gives you more margin on your defense when you have playmakers like that," Tucker explained.

And confidence too.

Briggs will miss his seventh straight game Sunday for the Bears after missing only four games in ten NFL seasons.