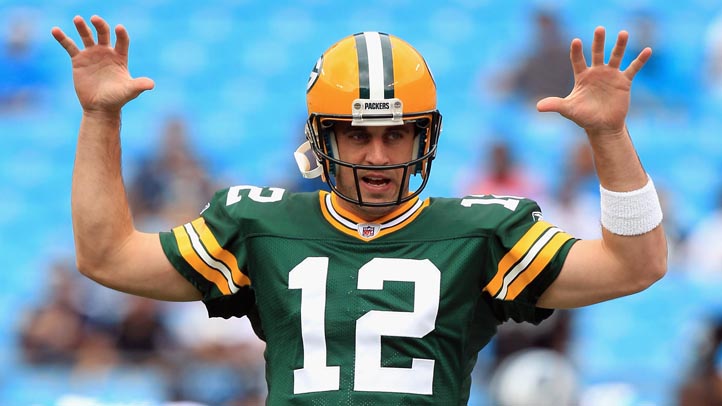 There is no enemy that the Bears know better than the Packers. The rivalry between two of the NFL's original teams is the oldest in the league, and dates back to the Roaring '20s. It's a rivalry that is just as fierce now as it was George Halas and Curly Lambeau roaming the sidelines, as the Bears and the Packers played three times last season, with each game growing more pivotal. This is a team that the Bears may know better than themselves.

Let's take a look at this evil green and gold team from that state where we like to bring our boats:
This is the fourth time in the past five seasons that the Packers have started the season 2-0. They've made the playoffs in the last three of four seasons.
Charles Woodson is as old as dirt, but still can play. He had two interceptions against the Panthers, meaning that the 1997 Heisman Trophy Winner picked off the 2010 Heisman Trophy Winner in Cam Newton.
Speaking of old, Donald Driver is still playing, and making catches. This season, he's on the cusp of passing 10,000 receiving yards, and is already the Packers' all-time leader in catches and yards. He missed practice on Wednesday for a foot injury.
The Packers are really good at stopping teams in the red zone. In 11 opponent trips to the red zone in the first two games, only opponents have only come up with three touchdowns. This should work out beautifully Sunday because the Bears are terrible once inside the 20.
Aaron Rodgers passing rating for the first two weeks is 126.4, and he's the most efficient QB in the league on third downs since 2009. Geez, Aaron. We know you're good. Do you have to rub it in?
His favorite target is Greg Jennings, who finished in top three of the league in reception yards overall, yards per game, reception touchdowns, plus inspired one of the best Madden jokes of the year.
The Packers were hit hard by injuries in 2010, but still managed to win a Super Bowl. This season, the injury bug hasn't left Green Bay. Three-time Pro Bowl safety Nick Collins is out for the year with a neck injury. Frank Zombo, Clay Matthews, and Woodson have missed practice because of injuries.
Ugh. The conclusion? The Packers are still really, really good.
Copyright FREEL - NBC Local Media