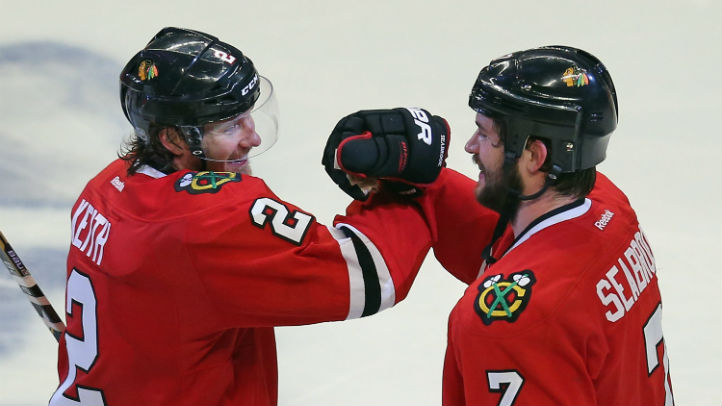 Ever since the Chicago Blackhawks drafted Duncan Keith in the second round of the 2002 NHL Entry Draft, the team has relied on him to be an offensive catalyst on their blue line, and more often than not, he has delivered.
During the team's 2010 Stanley Cup run, Keith has been a huge part of their success, racking up a career high 14 goals and an impressive 55 assists en route to winning the Norris Trophy as the top defenseman in the league. He also had a remarkable 213 shots on goal that year, and when you add that ability to create offense with his excellent defensive prowess as the playoffs wore on, it was clear that the Hawks were sitting on a gold mine.
The 13-year contract that Keith signed the following year did little to cool off his production. He still averages just about a half a point per contest, and that is a good number for a blue liner that plays the types of important minutes that Keith does.
This season, Keith has gotten off to another hot start offensively. He already has racked up 51 shots on goal in 18 games, and even though he has only scored once, he has added 12 assists to make up for his lack of goal scoring. Add to that his solid work on the Hawks' power play (five of his points have come on the man-advantage), and his value to the team becomes obvious.
Keith's contributions have been overshadowed a bit by the stellar offensive play of the Hawks' forwards as of late. Over the last seven games, the Hawks have racked up 32 goals, and have a 6-0-1 record in the process. While much of the success has been attributed to the top line of Marian Hossa, Jonathan Toews, and Patrick Sharp, Keith has been just as instrumental as those guys.
Over that span, Keith has 14 shots on goal and six assists, and he scored his first goal of the year against the Edmonton Oilers on Sunday. In fact, there has only been one game in that seven game run of dominance that Keith has failed to register a point in, and even then he was a plus-2 rating on the defensive side of things.
Yes, the Hawks' recent offensive explosion has been a team effort, but seeing Keith take a more proactive role this season than he has the past few years has been a sight for sore eyes. The offense simply works better when Keith is snapping off stretch passes up the ice to start up the transition game, and his shots to take advantage of traffic in front of the net have been much more effective in the early going this year.
If he can continue to provide that kind of two-way play for the Hawks, then the team's upcoming stretch of 10 games in 17 days could see a continuation of this full-steam ahead mentality on the offensive side of things, and that's bad news for the Hawks' opponents.