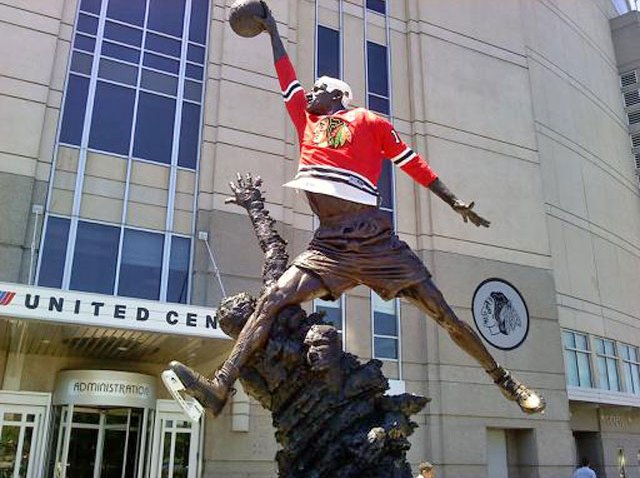 Air Jordan is now Air Toews. At least for the duration of the Stanley Cup.

In celebration of the Blackhawks first trip to the Cup since '92 -- and possibly, their first championship since '61 -- the staff of the United Center and Blackhawks personnel decorated the Center's Michael Jordan statue with hockey gear.

The jersey reads Toews, the 'Hawks first-line center and team captain. The Jordan statue now also sports hockey skates and a makeshift helmet.

The statue was decorated Thursday night, according to a Blackhawks spokesperson. They assume it'll stay that way through the remainder of the finals.

The 17-foot-tall, 2,000-pound statue, designed by Omri and Julie Rotblatt-Amrany of Highland Park, Illinois, was unveiled in November of '94. The granite base lists Jordan's on-court achievements, and an inscription reads "The best there ever was. The best there ever will be."

Across Chicago, other attractions have received similar treament.
A dinosaur outside the Field Museum is sporting a jersey, and the lions outside the Art Institute have Blackhawk helmets.

Game 1 against the Philadelphia Flyers is Saturday in Chicago.
Copyright AP - Associated Press