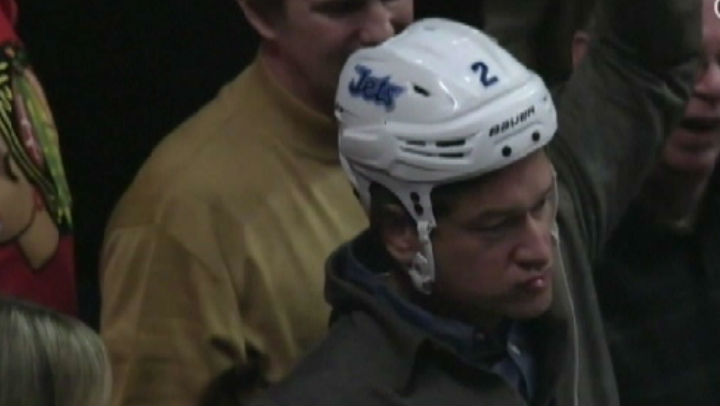 During the Chicago Blackhawks' Nov. 6 game against the Winnipeg Jets, the action on the ice ended up spilling into the stands, as a fan stole the helmet off of Jets defenseman Adam Pardy after Pardy was slammed into the glass by Brandon Bollig.
As a result, fans of the Jets had planned on participating in an event called the #HelmetPardy, where fans attending the Blackhawks-Jets game on Thursday night would wear hockey helmets in celebration of the incident in Chicago. Unfortunately for those fans, the Jets organization put the kibosh on the planned party in a statement issued by Jets Chairman Mark Chipman.
Here is part of that statement:
"The Chicago Blackhawks organization, for whom we hold a great deal of respect, conducted themselves with the highest degree of professionalism in the wake of the unfortunate incident on November 6th. We immediately received apologies from Team President & Governor John McDonough & General Manager Stan Bowman. The Blackhawks organization have also personally expressed their gratitude to Winnipeg Jets defenceman Adam Pardy for the way in which he handled himself in a very difficult situation. As well, the particular individual involved that night has extended a sincere apology to Adam and our organization. He is extremely remorseful and has made an unnecessary yet very meaningful donation to the Winnipeg Jets True North Foundation."
The Hawks did immediately issue an apology for the incident when it occurred, and also made sure to point out that they had ejected the fan, local car dealer Kevin Mize, from the game after he stole Pardy's helmet and put it on his own head.
The coolest piece of news to come out of all of this isn't that the Jets ended up cancelling the promotion (which seemed to be an innocent and funny idea, although the potential for it to end up like the Blackhawks' hard hat promotion did when Jonathan Toews scored a hat trick is a good enough reason to quash the plan), but rather that Mize ended up making a donation to the Jets' charitable foundation. As Chipman said, an apology seemed sufficient being that the team did boot him from the arena, but to follow that up with a donation as a gesture of that apology was a cool thing for Mize to do.
Kudos to him, and kudos to Adam Pardy and the Jets for the way they have handled this entire situation.