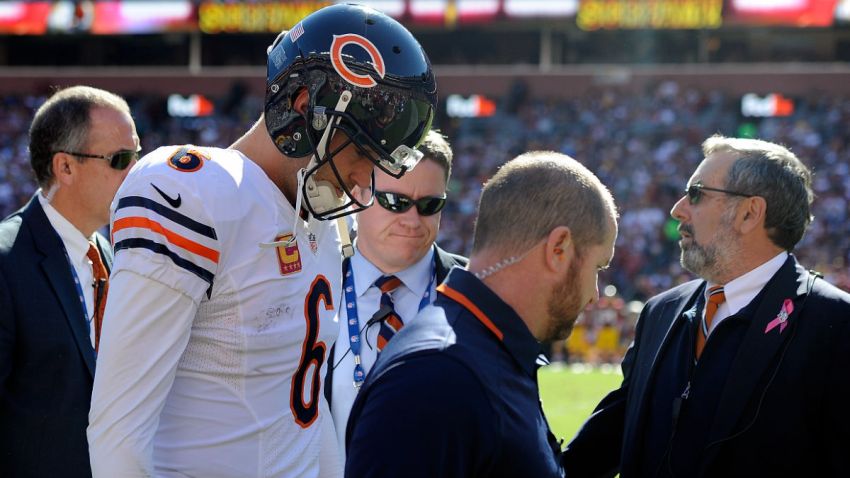 The Chicago Bears will have to do without Jay Cutler for several more games.

The team confirmed Monday Cutler will be out of action for at least four weeks with a torn groin muscle. The news came as the Bears announced Lance Briggs would be out four-to-six weeks with a shoulder injury.
Coach Marc Trestman called the injuries "significant" but looked on the bright side.

"They're not for the season," Trestman told reporters. "They're not done. They're going to be back, and this team has an obligation with the next-man-up philosophy, of coming together. There's a lot of reasons to be exciting about coming back here next week."

Cutler was hurt during the second quarter of Sunday's game when Redskins defensive lineman Chris Baker got his first career sack, one that sent chills through Chicago fans.

Baker rolled over Bears quarterback Jay Cutler, grabbing at his hip. Cutler, who already had taken a few hits, did not get up and players immediately called for trainers and medical personnel on the field.

Bears wide receiver Earl Bennett called the scene "frightening."

"He's a tough competitor," said Bennett, who has seen Cutler take hit after hit, from his college years at Vanderbilt through his past five years with the Bears. "So when you see him down and he stays down, you know something's serious because he normally pops back up and shakes it off."

Bravado may have encouraged Cutler to leave the field on his own two feet, gingerly walking away with the help of a team trainer and medical personnel. He got as far as the tunnel before needing a cart to take him the rest of the way.

Lying on his right side, with his left hip propped up, Cutler grimaced in pain.

"It's tough you know?" Bears center Roberto Garza said while looking around the locker room of players who were banged up during Sunday's game. "But it's football and we've had unfortunately a couple injuries. Other guys have to step in and fill those roles."

"It sucks, it just sucks," tackle Jermon Bushrod said, adding the Bears would dedicate every game from here on out to Cutler.

Bears players said they are prepared to play for Josh McCown for their Nov. 4 Monday night game in Green Bay.

McCown was originally signed by the Bears in an emergency move on Nov. 23, 2011, after Cutler broke his thumb tackling Antoine Cason of the Chargers. Then-backup Caleb Hanie lost five straight games before McCown started the final two games.

"Josh has been in this position before," Garza reminded. "You've seen what he's been able to do, step in and win football games for us."

McCown lost his first start with the Bears on Christmas of 2011 in Green Bay, but he won his Week 17 matchup against the Vikings despite getting sacked seven times.

In this his third stint with the Bears (he was released after 2011, then re-signed in November 2012 when Cutler sustained a concussion), McCown is mastering the art of being a backup despite not getting any reps with the first team offense in practice.

From mimicking Cutler's cadence, to copying his practice habits, McCown says he's ready to fill in again.

"Practicing with Jay, he sets the bar high," McCown said after Sunday's loss at Fed Ex Field.

McCown engineered four scoring drives in place of Cutler, finishing 14 of 20 for 204 yards, a sack and a touchdown. McCown's passer rating was 119.6 in relief.

"We probably got the best guy you want to have at the number 2 position," wide receiver Brandon Marshall said. "Josh, he's really a captain on this team, he just doesn't have the C on his chest. He prepares every week like he's the guy, I think that showed today. He's confident and his faith is off the charts."

The Bears are keeping their faith too.