The Hawks head into a tasty looking weekend that will either set them up beautifully for the post-All Star Break sprint, or could leave them a very desperate team. After these days off, I'm looking most at what Marian Hossa and Patrick Kane produce during the next three games.
Hossa began the season by showing us what a dominant force looked like. Though we saw flashes of it last year, health concerns kept his inner-beast from coming out on a consistent basis.
In the season's first seven games, Hossa racked up 7 goals and 11 points. Then the bad luck and injuries set in. He didn't register a point in his next five, and then missed some time with his first injury of the season. He came up with seven points in the next 10, though only one goal, before Nick Boynton endeared himself even more to Hawks fans by injuring Hossa in practice and he missed the next month.
Since returning, Hossa has seven points in 11 games, but three of those came against the Islanders. So if you substract the first seven games, Hossa has 3 goals and 11 assistis in 25 games. That's plain just not good enough. Maybe he's still hurt, but these five days and then the five days he'll get next week should be enough to cure those. If they're not, then he's really hurt and probably shouldn't be out there. With Dave Bolland's line finally firing, the Hawks could become a force if they get their stars in gear.
Patrick Kane is a different study. He's had his own injury worries, and there isn't much doubt he is still dealing with it as ankle sprains don't just go away.
Kane is also near the point-per-game pace we're used to seeing from him. But the eye test tells a different story. Though the record shows eight points in the 10 games since coming back, Kane has looked invisible at times. The kid who shrugged off or squirmed away from most hits last year is getting knocked off the puck this year. His two goals in this stretch have come against Ottawa and the Islanders. At least the Ottawa one came after some determined backchecking, something that's been missing all year.
Our compatriot Chris Block at The Third Man In.com compiled some interesting stats today, and one of them is that the Hawks are 0-7 when Kane is amongst their top five in terms of ice time. In those seven games, he has two points. So the more he plays, the worse he and the Hawks get.
Fitness? Attention? While I make a lot of jokes about Kaner's nightlife, there isn't a Hawks fan out there who don't wonder what it might be doing to his game. We have no proof, nor will we ever. But I think it's telling that after the Circus Trip when Kane was asked about it, the first thing he said was about going to Vegas, not the Hawks 4-2 record on that trip.
Whatever it may be, the Hawks need the cocky, sneering, determined scamp who lived to shove it where the sun don't shine, and not this seemingly complacent, goofy, half-hearted, get by on my skills guy we've seen this year.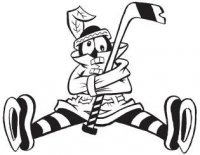 Sam Fels is the proprietor of The Committed Indian, an unofficial program for the Blackhawks. You may have seen him hocking the magazine outside the United Center at Gate 3. The program is also available for purchase online. Fels is a lifelong 'Hawks fan and he also writes for Second City Hockey .