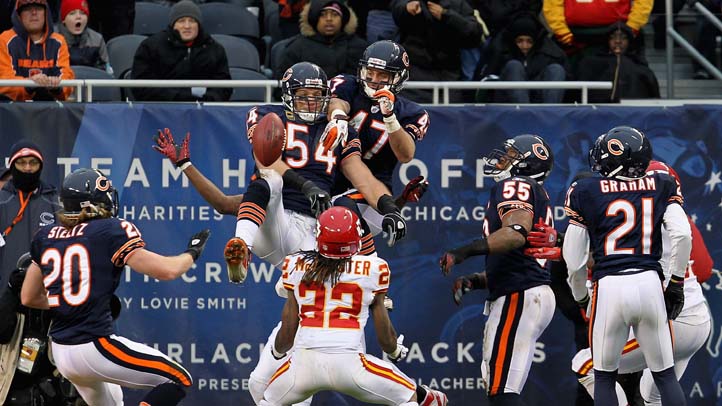 The Bears lost the Chiefs 10-3 on Sunday, putting their playoff hopes in jeopardy, but that was not the worst loss of the day. Matt Forte was injured and left the game in the first quarter, and Sun-Times report says that he is believed to have a sprained MCL. More tests are needed to confirm the injury.

Though the loss of Forte was painful, they were in the lead with two seconds left in the second half. With Kansas City on the Chicago 38, Tyler Palko unleashed a Hail Mary pass. In the end zone, Brian Urlacher and Chris Conte batted the ball away, right into the hands of Chief Dexter McCluster. That play gave the Chiefs a 7-3 lead at halftime.

The Bears had a chance to tie the game in the fourth quarter. With the Chiefs up 10-3, Caleb Hanie engineered a drive that put the Bears in the red zone. He threw a pass to Roy Williams, who bobbled the ball right into the hands of three different Chiefs defenders, wrecking any chance the Bears had for a score.

Hanie threw two more interceptions in addition to that one on Williams, though one was on a last-ditch play in the final seconds of the game. He was sacked seven times, completed 11 passes, and made zero touchdowns. The worst stat is that the Bears didn't convert on a single third down. Kahlil Bell and Marion Barber contributed, but every gain they made was erased by the rest of the offense's ineptitude. Between sacks and the Bears inability to move the line of scrimmage, the offense was completely ineffective.

Playing against a second-string quarterback, the Bears defense did not do enough to stop the Chiefs. Israel Idonije and Henry Melton both got sacks, but the D didn't force a single turnover.

Forte was not the only player who had to leave during the game. Major Wright left with a shoulder injury. The Bears are now on a two-game losing skid at the worst possible time, and they may have lost their best offensive weapon. Next up: Tim Tebow and the Denver Broncos.
Follow us here and on Twitter for updates from the game.
View the story "Chiefs vs. Bears" on Storify
]
Copyright FREEL - NBC Local Media