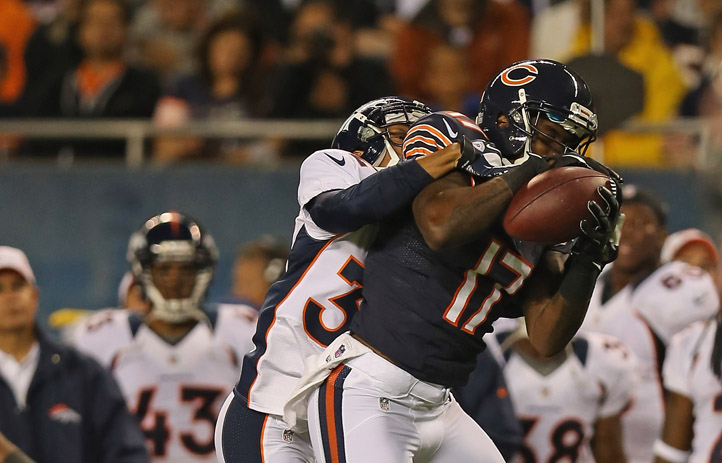 The Bears have not done well in the red zone. In 2011, they got into the end zone 52.63 percent of the time when inside the 20. Though that number isn't horrendous and it's an improvement from 2010, it's still not the kind of success rate the Bears need to get in the end zone. How will the Bears improve in 2012?

For one, they added height at receiver which will help in jump ball situations in the end zone.

"They make my job a lot easier down there," Cutler said. "And if you put Kellen Davis (6-7) in the mix, we have three dudes taller than 6-3. It's going to be fun just putting the ball up and hopefully getting some touchdowns."

Brandon Marshall and Alshon Jeffery are 6-foot-4 and 6-foot-3. In addition to Marshall's already-established connection with Cutler, Jeffery has shown promise in training camp. They have the ability to fight for the ball in the end zone.

As Cutler mentioned, Davis will also contribute to getting the Bears in the end zone. He had five touchdowns in 2011 in Mike Martz's offense, which did not feature tight ends.

The Bears also made an addition so the Bears can get into the end zone on the ground. Though Matt Forte is skilled at getting the Bears downfield, he is not so skilled at getting in the end zone. He had three touchdowns in 2011. Like Forte, Adrian Peterson and Ahmad Bradshaw played in 12 games in 2011. Peterson had 12 scores. Bradshaw had nine.

To make sure the Bears could run the ball in for a score, Michael Bush was signed. He had eight touchdowns in 2011 and can be a red zone threat when Forte can't.
<a font-family:="" href="http://

<a font-family:="" href="http://

News breaks at inconvenient times. Stay tuned to NBCChicago wherever you go. Download our iPhone and iPad apps, now available on the iTunes App Store. Get your iPad App. Get your iPhone app.
Copyright FREEL - NBC Local Media