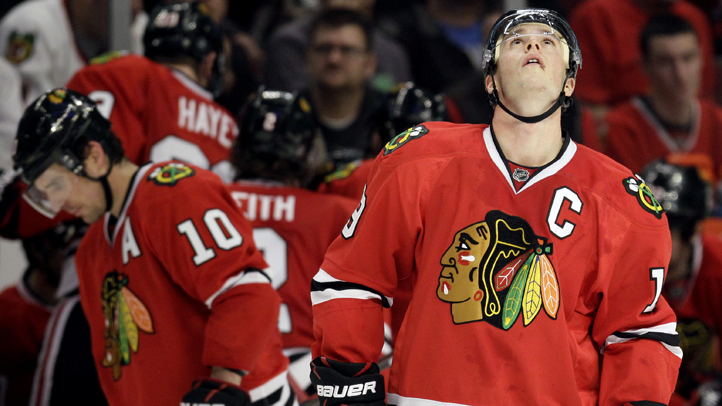 Beginning a crucial three game homestand without Jonathan Toews, there probably aren't three teams you'd want to see less than New York, L.A., and St. Louis. All three play a system that gives the Hawks fits when they're full strength, all three come with goalies that will be competing for Vezina honors, two of the three are in the President's Trophy race for best regular season record with the other scrambling for a playoff spot. It's going to be a slog of a weekend, that's for sure.
It begins with the East's best team invading tonight in the form of the New York Rangers. The Rangers have been coasting to that Conference's #1 seed all season, but with a recent stumble and the Pittsburgh Penguins becoming the human torch, that gap is starting to close. It's still six points, but it was ten not so long ago. This will be the Rangers third game in four nights, having lost in New Jersey on Tuesday and in Ottawa last night.
The Rangers lately have had problems maintaining possession of the puck, causing undue pressure on a defense that has held up all season but may be showing signs of a crack here and there. Their legs just don't seem to be quite as spritely as they were. Combine that with a power play worse than the Hawks' (yes virginia, it's possible), and the goals are starting to dry up.
Injuries are taking a toll too, as Brandon Dubinsky will miss out tonight and captain Ryan Callahan missed a couple earlier in the week. He's back tonight, though. Other players are carrying some bumps and bruises.
That might have something to do with the way the Rangers kill themselves to block shots. It's a huge part of their defensive system, and everyone is expected to do so. Their first priority is to be in shooting lanes. They'll let you pass it around, but they'll have a guy blocking the path to the net. It's what's led to a top five penalty kill.
Everything starts in goal for the Rangers, where the Hawks won't be so lucky as they were at MSG when they got the Rangers' backup. Henrik Lundqvist is not only going to easily win the Vezina this year, he has a pretty good case for the Hart for Most Valuable Player. He's been stellar, and has bailed the Rangers out a lot of nights. He'll take some beating, as there's no book on him. He's good low, high, with traffic and without. The Hawks must get in front of him if they're to have any hope, because you need a bounce or two to go right to get multiple goals past him.
Lineup should look the same for the Hawks as it did on Tuesday, but the patience and work will have to be better. The Rangers aren't going to provide a lot of space, so you can't force things or the Hawks will jump start their offense with turnovers and giveaways. Last night, Phoenix, San Jose, and Dallas all picked up points. So if the Hawks want to keep the trap door in the rearview mirror horizon, they'd better win tonight.