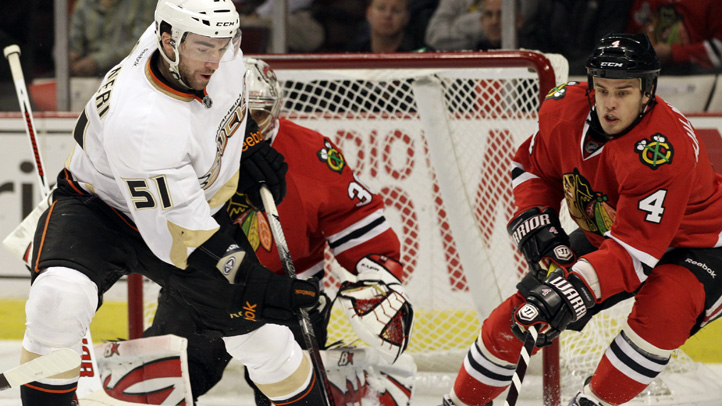 The Chicago Blackhawks have been blessed over the past few seasons to have some really great offensive defensemen on their roster. From players like Brian Campbell to current mainstays like Duncan Keith and Nick Leddy, the Hawks have been fortunate to have a good blend of players who can move the puck, create scoring opportunities with shots from the point, and also be responsible enough defenders that they aren't constantly giving up chances the other way with undisciplined play.
One of the players who has largely been viewed as more of a "defensively responsible" type rather than a scoring threat has been Niklas Hjalmarsson. Known mostly for his solid defense and his penchant for blocking shots, Hjalmarsson's career high in points coming into the 2013-14 season was only 17 when he had two goals and 15 assists for the 2009-10 Stanley Cup champion Hawks.
That season netted him not only the love and admiration of Hawks fans, but also a lucrative offer sheet from the San Jose Sharks, which the Hawks matched to keep him in the fold. Ultimately, that move may have cost the team a chance to keep goaltender Antti Niemi on the roster (he ironically went to the Sharks), but Hjalmarsson has been striving ever since to make it worth the Hawks' while to keep him.
Now, armed with a new five year extension set to kick in after the current season ends, Hjalmarsson is enjoying one of the best starts of his career. Not only is he tied for the team lead in points with six, but he also has the best plus-minus rating on the team at a plus-7, and has combined with defensive partner Johnny Oduya to block 45 shots on goal, meaning that he is still contributing in a big way on both ends of the ice.
So what has caused Hjalmarsson's sudden scoring outburst? Obviously, he won't continue this pace, which has him on track to rack up 55 assists this season, but there are certain things that he is doing that do lend themselves to higher offensive output. His main contribution to the team this season has been a newfound admiration for the stretch pass out of the defensive zone, which allows forwards who get a good jump out of the zone to get a head of steam as they get zone entry into the offensive zone.
The Hawks have long been diligent practitioners of this kind of offensive strategy, but it seems like Hjalmarsson is embracing it now more than he has in previous seasons. Whereas players like Keith tend to rack up their assists by peppering goaltenders with tons of shots and hoping for either rebounds or deflections (Keith already has 30 shots on goal this season, with no tallies to show for it), Hjalmarsson's tendency to look for the stretch-pass fits in perfectly with his defensive sensibilities, and the results speak for themselves.
Taking a look at the Hawks' victory over the Florida Panthers on Tuesday provides a great example of how Chicago has been deploying him this season, and how Hjalmarsson is thriving in multiple areas. For the most part in the game, Hjalmarsson and Oduya ended up squaring off with Tomas Flesichmann, the Panthers' leading offensive catalyst in the early going, and they did an admirable job against him. Flesichmann did score a goal in the game, but it was on a quick transition play against the Keith-Seabrook pairing, not the Hjalmarsson one, that the Hawks weren't able to contain in the neutral zone.
In addition to his responsibilities on the defensive side of the puck (Hjalmarsson starts only 43% of his shifts in the offensive zone, compared to nearly 50% for Keith), Hjalmarsson also showed his flair for initiating the transition game against the Panthers as well. On a play in the second period, Hjalmarsson grabbed the puck in the defensive zone and fired it to the half-boards, where Andrew Shaw was waiting at the blue line. He flipped the puck into the neutral zone for Bryan Bickell, who took care of the rest and gave Chicago a 2-0 lead.
It's that ability to not only move the puck up the ice himself, but also to be part of a chain of passing to move things quickly on offense, that Hjalmarsson has really embraced this season, and there is a very real chance that he could smash his career highs in goals and assists if he can keep this up.