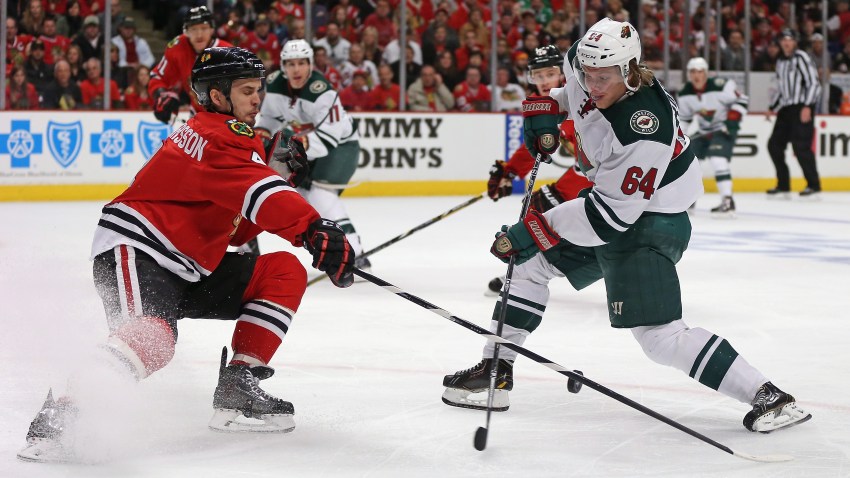 Saying that hockey players are tough isn't exactly an Earth-shattering statement. In the case of Chicago Blackhawks defenseman Niklas Hjalmarsson however, "tough" doesn't even begin to describe the way he's been playing in this year's Stanley Cup playoffs.
Game 2 against the Minnesota Wild provided yet another example of Hjalmarsson's willingness to sacrifice his body for the good of the team. During the first period of the game, Mikko Koivu blasted a slapshot that Hjalmarsson blocked. This wasn't any ordinary shot block, as it caught Hjalmarsson in the neck and dropped him to the ice like a sack of bricks. The play was immediately blown dead, and the Swedish-born defenseman slowly limped to the bench with assistance.
The last time Hawks fans saw a player take a shot high on the body like this was when Andrew Shaw got a puck to the face during the Stanley Cup Final in 2013. After he was stitched up, he came back in and played, only missing a few shifts. Duncan Keith is also a Chicago-area legend for blocking a shot against the San Jose Sharks with his mouth, losing seven teeth and spawning all sorts of Duncan Teeth references for the rest of his career.
Fortunately for Hjalmarsson, all of his pearly whites are still in place, but what was even more remarkable was that despite getting nailed in a vulnerable spot with the puck, he didn't even miss a shift, and was back on the ice just a few minutes later.
We've seen Hjalmarsson prove his toughness before. One great example came in Game 3 of last season's Western Conference Final against the Los Angeles Kings when Hjalmarsson took a slapshot from Slava Voynov right off of his knee. The officials didn't blow the play dead since the Los Angeles Kings still had possession of the puck, so after peeling himself off the ice, Hjalmarsson got back into the play and tried to lay out to make another shot block:
We'll be sure to get Peggy Kusinski or Rebecca Haarlow on the story to see if there's some type of secret to Hjalmarsson's toughness, but for now, our working theory is that he just eats plenty of Swedish meatballs: