One day, maybe I'll get to play with the slot machine that the Hawks use to sort out the lineup one day, the way coach Q uses it.
It was clear that the Hawks needed something, because in their last three games against actual NHL teams (Florida doesn't count, really), the Hawks have put up three goals. Clearly, that's not going to get things done. Without Patrick Sharp and Dave Bolland there's only so much you can do, and there just isn't that much scoring to spread around, but Coach Quenneville is going to try.
The buzz from practice yesterday saw this lineup of forwards shake out:
Troy Brouwer-Jonathan Toews-Patrick Kane
Bryan Bickell-Marcus Kruger-Marian Hossa
Michael Frolik-Jake Dowell-Tomas Kopecky
Viktor Stalberg-Ryan Johnson-Fernando Pisani
Keep in mind that at today's morning skate the Hawks were skating in the same formation they had for the last game, but that may have been a case of hockey espionage when in Detroit, as Wings coach Mike Babcock is pretty well known to scout the other team's practice hardcore. We shall see.
The new lineup makes some sense. Brouwer has been a corpse since being removed from the top line for reasons only known to Harvey the Rabbit 17 games ago. While I'd like to think he's the type of player who can produce with pretty much anyone, he hasn't proven that. But he has proven to be very effective with the two kids in the past, providing a big body to open up space and blot out the sun from the opposing goalie's eyes in front. This is probably something they should have done a while ago, but Sharp with T & K was producing too well.
More interesting is Kruger getting a promotion to presumably just pass the puck to Marian Hossa, which isn't a bad plan. Frolik at center with Hossa just never quite clicked, though it did come close at times. How Bickell keeps top 6 minutes is anyone's guess, as he's proven to be a total waste of a sizable body unless he gets his own private island to unleash his wrist shot. He doesn't come close to playing to his size and never gets in front of the net. But I guess the other options aren't much better.
The bottom two lines are a mish mash of hopes and disappointments and fairy tales. Maybe Frolik and Kopecky can make the third line better than it's been, which keeps the fourth line from having to be a third line and Johnson and Stalberg can use their speed to cause some havoc in limited minutes. Especially against Detroit, where Darren Helm -- who might be the fastest skater in the league -- patrols the bottom unit for the Wings.
What it makes clear is that when Sharp is healthy, which is starting to sound like it will be sooner rather than later, someone is going to have to make clear to him that the Hawks need him to go to the closet and find that two-way center he's been for a majority of his career instead of this one-dimensional sniping winger he seems intent on being this year. If Sharp can play elsewhere from Toews, the Hawks can almost spread scoring to three lines, which just makes a huge difference. But i've been wishing upon that star all season, and I continue to wait longingly for it to come true.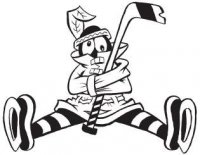 Sam Fels is the proprietor of The Committed Indian, an unofficial program for the Blackhawks. You may have seen him hocking the magazine outside the United Center at Gate 3. The program is also available for purchase online. Fels is a lifelong 'Hawks fan and he also writes for Second City Hockey .