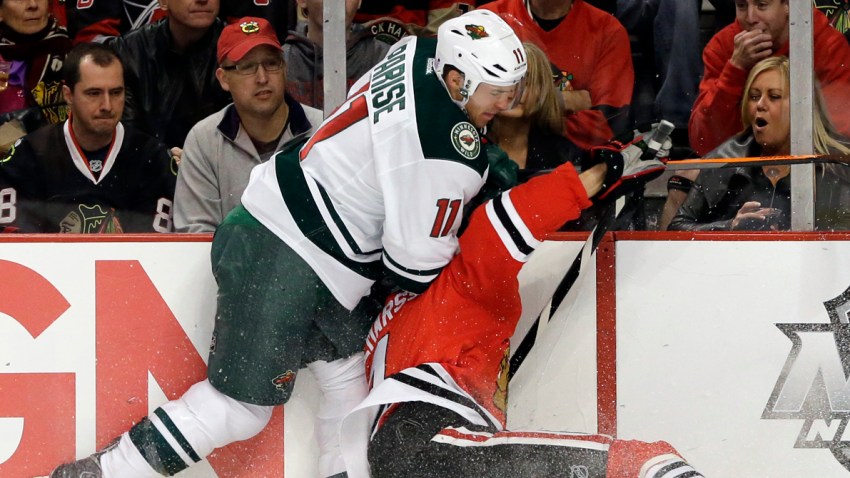 The Minnesota Wild were being left for dead after a December fall that saw them out of the playoffs, without some of their best players, and with a coach on the hot seat.
As the calendar flipped to 2014, that has changed in a dramatic way. With players like Darcy Kuemper and Ryan Suter stepping up in the absence of stars Zach Parise and Miiko Koivu, the Wild have bounced back with a 7-3 start to the New Year, and find themselves right back in the thick of things in the playoff race.
Thursday night will bring even more good news for the franchise as they take on the Chicago Blackhawks, with Parise returning to the lineup after suffering a foot injury. He hasn't played since December 22nd, and after participating in a full-contact practice on Wednesday, he is going to be activated from injured reserve and rejoin the Wild's top line as they take on the defending champions.
As for the Blackhawks, they are dealing with some adversity of their own, but more so related to their on-ice performance than injury issues. The team has hit a bit of a rough patch in recent weeks, and although they are still getting points on a regular basis, they can't quite seal the deal, as they failed to do in a 5-4 shootout loss to the short-handed Detroit Red Wings on Wednesday night.
Overall this month, the Blackhawks have gotten 13 of a possible 20 points, but five losses in the overtime or shootout have prevented them from gaining any ground in a tight Central Division race. Winning two points against the Wild would go a long way toward reversing that trend, and would give the Hawks something positive to build off of as they take a couple of days off before their next game against the Winnipeg Jets on Sunday.
Key to a Blackhawks Victory: Defensive Discipline Must Improve
On Wednesday, the Blackhawks jumped out to an early 2-0 lead, but they let their foot off the gas and allowed the Wings to get back into the contest. One of the biggest issues they faced in the game was the constant miscues by the blue liners, and those kinds of mistakes have to be cleaned up if they are going to bounce back with a win against the Wild.
A couple of glaring examples come to mind when it comes to Hawks' errors. On a delayed penalty in the first period, Johnny Oduya jumped out of position to go after Justin Abdelkader in the high slot. As if that decision wasn't bad enough, Abdelkader didn't even have a stick at that point, so Oduya left Patrick Eaves wide open at the bottom of the faceoff dot, and he ripped a shot past Corey Crawford to tie the game at 2-2.
Later in the game, Duncan Keith and Brent Seabrook both made silly mistakes as the Wings took the lead. As the puck came into the defensive zone, Seabrook grabbed it, and then was indecisive with what to do with it. Instead of cycling it around the boards, he had the puck stripped by Abdelkader. Either seeing this or perhaps thinking that Seabrook was going to pass the puck around the boards, Keith jumped down below the goal line, leaving both Hawks' defensemen in poor defensive positioning.
The puck eventually found its way to Gustav Nyquist, who fired a shot past Crawford to give the Wings a 4-3 lead.
Those kinds of mental errors and indecisive attitudes are a killer against an aggressive and well-coached team like the Wings, and Mike Yeo's club will look to do the same thing if the Hawks show that same kind of carelessness Thursday night.
Blackhawk to Watch: Brandon Saad
As of late, there has been a lot of attention paid to Patrick Kane's recent scoring woes (he hasn't scored a goal since December 28th against the St. Louis Blues, an 11-game drought), but Saad's struggles in terms of putting the puck in the net have been equally disturbing to Hawks fans.
When Saad scored a goal against the New Jersey Devils in a January 3rd victory, it was his third goal in four games, and he looked to be locking into a hot streak. After that goal though, Saad has gone ice cold, putting only 14 shots on goal in his past eight games and not converting on any of them. He does have four assists in that stretch, including one against the Red Wings Wednesday, but he hasn't been quite as effective lately as Hawks fans have become accustomed to.
So far this season against the Wild, Saad has two goals and an assist, so perhaps playing a team he's accustomed to doing well against will jump-start his offensive game.
Wild Player to Watch: Zach Parise
Parise is the force that makes the Minnesota offense hum, and getting him back after missing a month with an injury is going to be a huge boost to the Wild's chances of victory in this game.
In three games against the Blackhawks this season, Parise has two goals and has 10 shots on net, including a power play marker in a 4-3 victory over the Hawks in the teams' last meeting in December.
There's no telling how much ice time Parise will see in this one, but odds are that he wouldn't have come back if he wasn't ready for his usual 18-20 minutes, and if he is able to repeat his successes against the Hawks in this one, then Chicago will have a tough time keeping him in check.