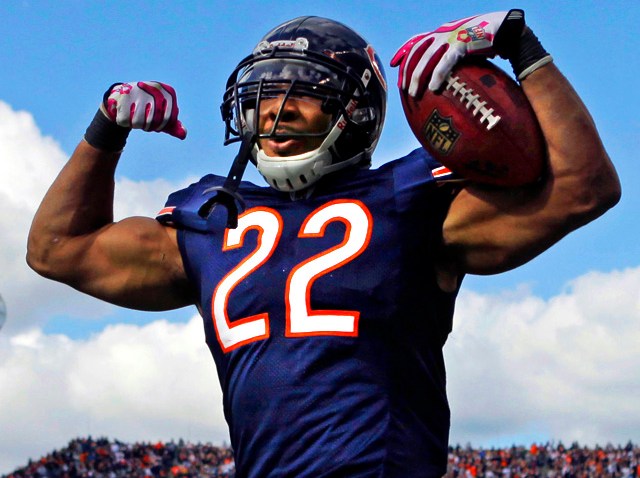 Another week, another underwhelming crop of fantasy performances from Bears players. Jay Cutler's three-week fantasy splurge ended last week with a bevy of picks and blown red zone chances; Matt Forte still can't get any help from his offensive line; and the Bears wideouts are still the Bears wideouts: solid, but nothing to write home about. Only tight end Greg Olsen is looking like a strong play at this point. But hey, these are the Bears. If you drafted them, what did you expect?

Matt Forte: That said, you have to feel bad for Forte owners. Most of them drafted Forte in the top five of their fantasy drafts, and why not? The Bears offense imported Jay Cutler, and surely Cutler's throwing ability would open up even more holes for Forte on the ground, right? Wrong. The Bears' offensive line has struggled to get any sort of push for Forte up front, and as a result he's managed to fail miserably as a fantasy option this season. That includes last Sunday night, when Forte rushed 15 times for 23 yards and one fumble. Oof. This week's match up with the Bengals isn't the worst in the world, but if you still think Forte is a No. 1 fantasy back, you're kidding yourself.

Jay Cutler: Cutler has taken control of the Bears' offense in recent weeks, and with the Bears' porous offensive line, he has to. The Bears face lots of long down situations, and Cutler is skilled enough to move around in the pocket and make plays even when things break down. Pity for him, and his owners, that the Bears offense isn't more productive: Cutler has plenty of opportunities to throw. He just doesn't have all that much to work with. Still, though, he's a very playable quarterback, and his improving chemistry with Johnny Knox and Greg Olsen portends good things in coming weeks.

Johnny Knox, Devin Hester, Earl Bennett, etc.: At this point, you kind of know what the Bears wide receivers are: Hester is sporadic, Bennett is difficult to justify playing in any given week, and Knox is solid. The problem is that none of these receivers is particularly over- or undervalued. They're just sort of good. Chances are you can play Knox each week, and that's all well and good, but if you're looking to make a trade for him, you probably won't be able to swindle too many owners.

Greg Olsen: Now here's some fantasy value. Chances are you got Olsen relatively late in your draft, and if you did, kudos to you. Olsen is starting to develop the relationship with Jay Cutler that most owners assumed would blossom this year: His 11-point (standard scoring) fantasy game in Week 6 was a season high, and the Bears have made it clear they want Olsen more involved in the passing game. And why not? He's the Bears best all-around receiver, and his size and speed make him a tough match up for either a linebacker or a free safety. Olsen's fantasy value is already decent; it should only increase in the weeks to come.

Eamonn Brennan is a Chicago-based writer, editor and blogger. You can also read him at Yahoo! Sports, Mouthpiece Sports Blog, and Inside The Hall, or at his personal site, eamonnbrennan.com. Follow him on Twitter.
Copyright FREEL - NBC Local Media