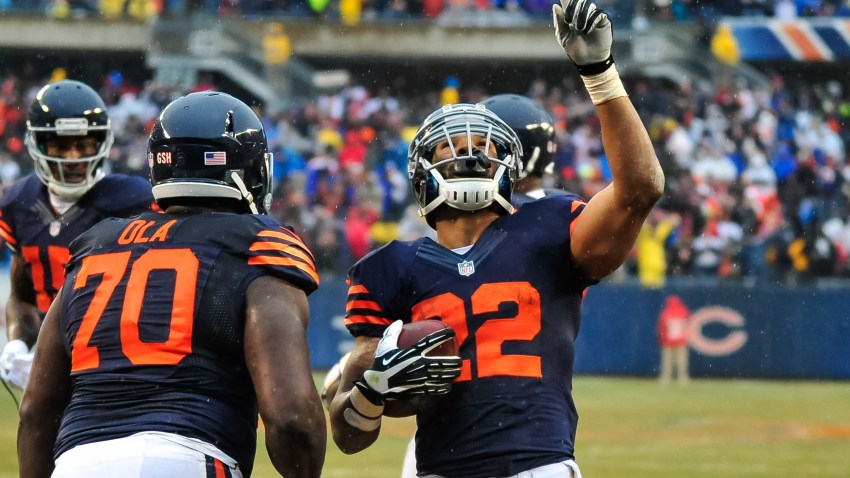 If you're like most Chicago Bears fans, then you've been seriously contemplating a question ever since Jay Cutler threw an interception to end Thursday's game against the Detroit Lions: why should I keep watching this team?
To help out over these final four weeks of the season, we here at Grizzly Detail have come up with four reasons why you should continue to watch the Bears through their final snap of the regular season.
Can Matt Forte Reach 102 Receptions?
After Thursday's game against Detroit, Forte now holds the Bears' single-season record for receiving yards by a running back, breaking Walter Payton's mark. He now has 78 receptions through the first 12 games of the season, and with a good finish to the year, he could threaten the 100 reception plateau.
The big question for Bears fans is whether or not Forte can reach the 102-reception mark. If he does, he would set an NFL record for most receptions by a running back in a single season, which was set in 1995 when Larry Centers caught 101 passes for the Phoenix Cardinals.
To reach the milestone, he would need to catch 24 more passes over the Bears' next four games, an average of six per game. He has met or exceeded that total eight times this season.
Will Jon Bostic Be Lance Briggs' Replacement?
With Briggs out of the lineup with a groin injury, the Bears' linebacker situation is in flux. Guys like Khaseem Greene and Christian Jones are getting more playing time, but one player that Bears fans should keep an eye on is Jon Bostic.
There has been talk that Bostic could be the heir apparent to Briggs at weak side linebacker, and fans should pay attention to how he is developing in his second year in the league. Is he reading play-action correctly? Is he biting on pump fakes? Is he filling in the proper gaps? All of those questions need to be answered if he is going to take on a prominent role on this defense, and the next four weeks will help determine that.
Can Marc Mariani Return a Kick Past the 50-yard Line?

The question is sarcastic, but the fact of the matter is that Mariani is a far sight better than anyone the Bears have had returning kicks so far this season. He actually is able to break the 20-yard line with consistency on kick-offs, and he has done a nice job in the punt return game this year.
With the special teams' unit being the one group of Bears that succeeded on Thursday, it isn't unreasonable to think that Mariani could break a long return at some point this season. Watching whether or not he will do it will at least distract Bears fans from celebrating that the defense actually made a stop.
Alshon Jeffery
On a day that the Bears' offense looked particularly putrid, the one bright spot was Alshon Jeffery. With two touchdown catches and nine receptions for 71 yards overall, Jeffery made some great plays both in the open field and under duress, and he looked the way a number one receiver should.
As the season draws to a close, Jeffery is going to be a player worth watching for highlight reel purposes alone, and he could prove to be a nice spark plug to the offense over the final four weeks.