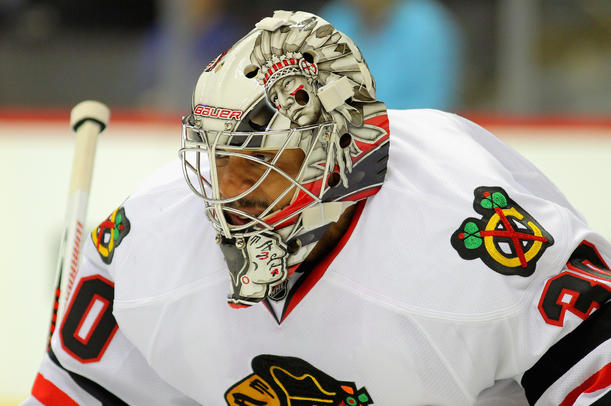 At Madhouse Enforcer, we generally aren't big into previewing games. In fact, since this blog revamped at the beginning of March, we have only previewed one game: the Anaheim Ducks and Chicago Blackhawks last Wednesday.
Tonight, however, we are in the mood for some fun. After last night's loss got everyone hot and bothered, it seems like a silly idea to make some predictions for how tonight's tilt with the Calgary Flames will go
.
The Twitter Predictions:
Jarome Iginla's every move will be over-scrutinized
Every member of the Chicago media has made it a point to cover the Iginla trade story since news broke that he had reportedly included the Blackhawks on the list of teams he would be willing to accept a trade to.
With that in mind, from the moment the Flames captain hits the ice tonight, expect that every beat writer and armchair critic of this team will be keeping an eagle eye on his movements. If he scores a goal or makes a series of stellar defensive plays, expect everyone to start throwing out trade scenarios. If he's bad, or if Dave Bolland somehow manages to generate some offense, then expect other fans to go into "keep the roster as is" mode.
Bitter fights will break out over Miikka Kiprusoff
Last night, the Blackhawks didn't really get any good performances out of anyone (except Michael Frolik and Duncan Keith, with maybe Jonathan Toews thrown in too), but goalie Corey Crawford got a great deal of the criticism.
If Ray Emery comes in tonight and has a similar poor effort to what Crawford put up last night, then except a wave of fans to start contemplating aloud about acquiring Kiprusoff from the Flames to shore up the team's goaltending.
If that happens, keep one thing in mind: Kiprusoff hasn't just been having an off year. He is having a preposterously terrible year. His GAA of 3.43 and save percentage of .873 are both cringe-worthy, and despite his reputation, there is no guarantee that this 36 year old is going to be able to turn things around.
Add to that the fact that he is owed almost $6 million next season, and you have some pretty compelling arguments to fire back with assuming that your friends decide to bang the Kipper Drum.
Other notions:
The power play will score tonight
It's almost impossible to quantify how bad the Blackhawks' power play was on Monday night. They couldn't get any offensive zone pressure, due in large part to the fact that they could barely get the puck into the offensive zone.
That should change on Tuesday night. Not only will the Blackhawks be emphasizing it heavily after laying such a huge egg on Monday, but Calgary is also one of the worst teams in the league at killing off penalties. Factor in their second-worst in the league defense, and you have a recipe for success that the Blackhawks should be able to follow.
Hawks will win 5-3
Trying to predict the score of any hockey game is like trying to predict the next conspiracy theory that Jesse Ventura will latch onto, but it stands to reason that the Hawks should come out of the gate firing tonight and not let up.

Yes, they did falter over the final 40 minutes last night, but it wouldn't surprise anyone if Toews and company didn't let that happen again. Blowing two late leads in their last two games is going to leave a sour taste in the mouths of the team, and they should play with a chip on their shoulders (sorry for mixing metaphors).