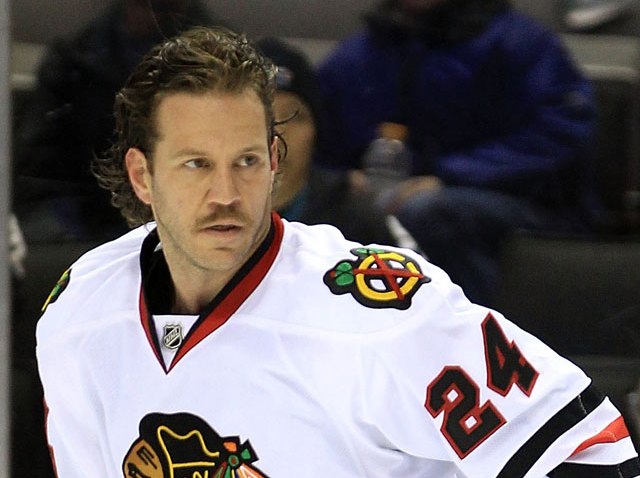 Plenty of former players find ways to give back to their communities, and former Chicago Blackhawks defenseman Nick Boynton is no exception.
In addition to the work that he has done with the Juvenile Diabetes Research Foundation, Boynton will also be hosting a youth hockey camp in the Chicago area in June. The camp, which will be held from June 16th-20th, will be hosted at the Glacier Ice Arena in Vernon Hills, and with it being his first camp, the defenseman is hoping that everything goes smoothly.
"This is the first camp that I'll be doing," he said. "I just wanted to sort of give back and see if anyone was interested in doing it. I love to work with young kids, and at that age, they're great to work with because they want to listen and they really want to learn."
"If there's anything I can teach them as far as game strategy, skating, and passing, I think I've got a lot to offer them in that respect," he added. "Just being able to talk to them and letting them know how hard you have to work to get to the next level will be good too."
As a former player, Boynton also keeps tabs on his former teams, and he has been following the series between the Blackhawks and the St. Louis Blues closely. As a member of the 2010 Stanley Cup champions, Boynton says that he's been rooting for the Hawks, but being a former player hasn't made it any easier to sit through the gut-wrenching close games of the series so far.
"They're two great teams," he said. "It's fun to watch, but it's tough to watch too because the games are so close. I'm obviously rooting for Chicago, and sometimes it's even more frustrating as a former player. They did bounce back well though in those last two games, so hopefully they'll carry that forward."
Boynton also has thoughts on some of the disciplinary measures the league has had to take with players like Milan Lucic and Matt Cooke, but he also defended the hit that Chicago defenseman Brent Seabrook put on Blues captain David Backes. The hit cost Seabrook a three game suspension, but Boynton didn't agree with the league's decision.
"He thought the puck was going to be there," he said. "As a defenseman, I understand what he was thinking. When you slow something down, I get it. You can see what you want to see. He thought the puck was going to be there, and once you're committed, it's nearly impossible to stop. I didn't think it was a bad hit."
Despite his feelings on Seabrook's punishment, Boynton thought that the seven game ban that Minnesota Wild forward Matt Cooke received for his knee-on-knee hit with Colorado Avalanche defenseman Tyson Barrie was too lenient.
"I think it's brutal," he said. "He deserves to be kicked out of the league. I grew up playing against him from the time we were 10 years old. The stuff I've seen in the NHL that he's done, there's no room for it. If you take a guy's knee out, there's nothing worse you can do to a hockey player. I was disappointed in the NHL, because there's no excuses for that type of play, and he got a slap on the wrist."
Boynton's stance on the Cooke hit is even more understandable when considering how hard the 35-year old had to work just to get into the NHL. Before his first training camp with the Boston Bruins, he was diagnosed with Type I diabetes, and his struggle to cope with the disease made him appreciate his standing as an NHL player even more.
"When I was diagnosed, I was going into my first training camp with the Bruins and the doctor wanted me to take a year off," he said. "I learned how to control the disease, and I've had people say that I shouldn't be playing, but I think that you can overcome anything if you put your mind to it."