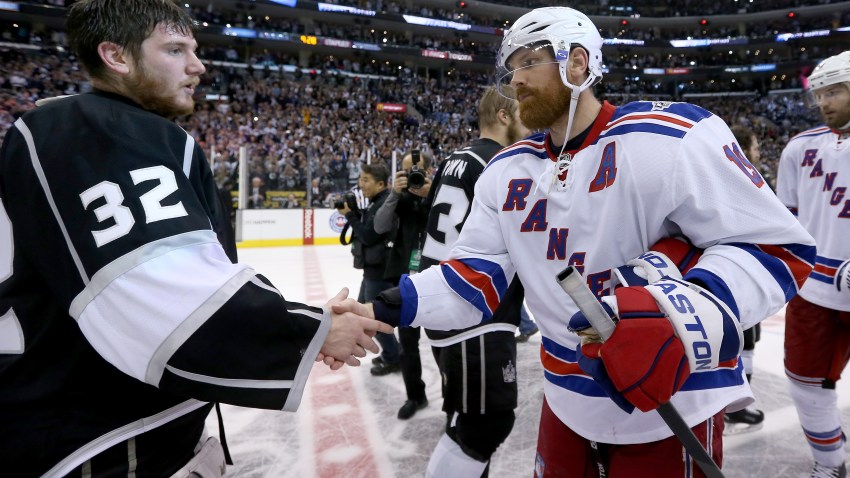 Thanks to their success over the past seven years, the Chicago Blackhawks have developed one of the most diverse and talented groups of writers tasked with covering them. In order to take advantage of that roster of talent, we sought out some of the best writers in the city to talk to them about where the team is headed, and which topics they prefer to focus on when they cover the club.
In this edition, we chat with Comcast SportsNet Chicago's Nina Falcone, who deftly mixes quality hockey analysis and fascinating profile pieces about the team. You can follow her on Twitter @NinaFalcone.
We'll start out with the big news of the week, and that's the NHL's reported plan to add four expansion teams. I think that's a case of overkill, but I'm interested to know what your take would be on a 34-team league.
Ah, yes. If there's one way to get the hockey world buzzing again in August, it's talks of relocation or expansion. My initial thought is that having 34 teams is overkill, too -- especially by 2017! Finding enough talent alone to fill four more rosters seems a bit excessive, and is it really necessary when there are already current teams struggling financially?
But with the league itself bringing in record revenue (especially with that new TV deal) and the fanbase growing more and more each season, it wouldn't surprise me if the NHL decided to strike soon. Even the fact that there are 16 teams in the East and 14 in the West tells you expansion is coming -- that wasn't done by coincidence. I would say if anything, add two more teams to the West and even things up.
We'll go back to the Blackhawks here, as I'm interested to know what your take is on their standing in the Western Conference after the offseason's moves. Did the Brad Richards signing make them the favorite, or do you think a team like the Los Angeles Kings or St. Louis Blues are still the favorites?
Well, the defending Stanley Cup champions are always the team to beat. And like the Blackhawks in 2013, the Kings are returning the majority of their roster. And while the Blues did make some roster moves that should help them in 2014-15, I think the big competition will be between the Blackhawks and Kings again. Things between both teams have been so close the last couple seasons, plus both now have strong playoff experience and that alone is huge.
Where the Kings differed from the Blackhawks during the Western Conference Final this year was at center, but I think overall the Brad Richards signing will help close in that gap. And while Richards may not be playing up to his old standards, he's still posting solid numbers and brings that leadership and experience that will be big on and off the ice.
The Hawks have some really solid prospects, but none is more hyped than Teuvo Teravainen. Putting on your Q-stache for a minute, if he makes the team out of camp, which line would you skate him on?
Ah, speaking of centers! At this point, I think it's too early to say what line he would play on. Teuvo's said he's willing to also play on wing, so if he made it out of camp, that could be an option -- especially with Richards here now. I think looking ahead, that second-line center role will be a great option, even if that's not until the 2015-16 season.
Are you surprised that the Hawks haven't made a move yet to address their salary cap issues, and what do you think they'll ultimately do to get under the cap?
No, it actually doesn't surprise me at all. Stan Bowman has been saying that there likely wouldn't be much movement until training camp once the team's brass gets a better idea of where players are at heading into the upcoming season. We have to also take injuries into account (ones from the playoffs we do and do not know about still). Johnny Oduya was a big example of that when he walked into the Blackhawks Convention with a walking boot on -- injuries can linger on for a while and Bowman could also be waiting until everyone is fully healed.
Now, I'm not saying that means Oduya's on the chopping block (even though those rumors have already been there), but I wouldn't be surprised if a defenseman ends up going. The Blackhawks' organization has a lot of depth, especially on defense. You look at guys like Adam Clendening and Klas Dahlbeck out in Rockford, and it may be their time for the big stage.
Last question, and I saved the best for last. I saw on Twitter that you were critical of the new all-female sports show "We Need to Talk." What specifically do you dislike about the concept, and in a world run by Nina Falcone, how would you address the issue of a lack of air time for female sports personalities?
In my tweet, I said "I wish people would realize this whole women-in-sports thing doesn't have to be so complicated," and it's true. Why can't there just be more women included in everyday broadcasts? Why does it have to be called "We Need to Talk?" Don't get me wrong, the show will have a very talented lineup of women in it. But I think what women in the sports world need at this point isn't the all-girls show, or the bedazzled jerseys or those "girl's guides to (fill in the blank)." The name of the show makes it sound gossipy, rather than like an actual sports show.
In just my two years on the job, I've met and worked with so many talented women who know the game inside and out. And overall I think we're moving toward a world where women are generally more respected in sports. But there's still work to be done there, so if I were in charge, I wouldn't have an all-female show. If it were up to me, both men and women would be held to the same standard, and that would be based on who knows the game the best. I appreciate the fact that CBS is trying to include more women on its broadcast, but it's time to leave the "girly" stuff out of it.