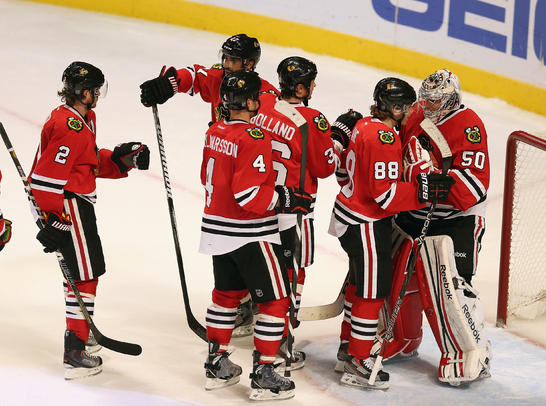 When it comes to the crazy start of the Chicago Blackhawks, there are people in the city who already have engraved their team's name onto the Stanley Cup before we've even gotten to the halfway point of the season. There are also those who have gotten so wrapped up in it that whenever it appears the run may be in jeopardy, they lose their minds and lash out angrily at the team.
Needless to say, this run is inspiring a lot of emotions, as well as a lot of comparisons to other clubs that have gotten off to hot starts. One of those teams was the 1995-96 Bulls, who through their first 44 games had a ridiculous 41-3 and eventually rode that momentum to their fourth NBA title in six seasons. It is that team that reporter Dan Bernstein addressed when he wrote an interesting column on his perspective on the streak.
"Some fans are uncomfortable trying to reconcile this reality with their currently giddy euphoria over the record-setting start. Anybody daring to point out that larger accomplishments loom is derided for trying to spoil the fun, quickly getting the 'No Pare La Fiesta' message. It's a peculiar thing, this apparent emotional fragility, especially considering that the franchise is not far removed from its own parade, and that 'One Goal' has been a marketing mantra, with its message obvious."
Essentially what it boils down to is the contention that the Blackhawks' streak is all well and good, but it will mean absolutely nothing if they don't turn around and win the Stanley Cup.
That contention leads to a broader question about this team: What end result of this season can reasonably be called "a successful year?" Of course gate revenues are huge, the sellout streak of the team has passed the 200-game mark, and all the financial metrics seem to be in order, but in the annals of history, is it fair to say the 2013 Blackhawks would be viewed with complete disappointment if they don't win a championship?
From the perspective of how Chicago sports fans view past failures, the answer is probably yes. The 1969 Cubs are a fantastic example, but the 1971 iteration of the Hawks is great as well. Fans from that era remember the shot off the crossbar by Bobby Hull in the Cup Finals' deciding game against Montreal, and they also cringe when they recall the shot Jacques LeMaire managed to pot from center ice against legendary goaltender Tony Esposito. It was a painful loss, but would a 2013 failure by the Hawks merit inclusion into that group?
The answer, in a word, is yes. This team has gone half a season without losing a game in regulation, but as more than one pundit has pointed out, they would be relegated to trivia question answer status if they were unable to win the championship this year. Yes, fans can celebrate the streak now and enjoy the national notoriety the team is getting, but as fans of a team that is currently the best in the NHL, they need to expect great things. Much like the 1990's Bulls, this team is loaded for bear and could win multiple titles, and if they don't, then this streak and this team can join the long list of Chicago sports achievements that were good, but not legendary.