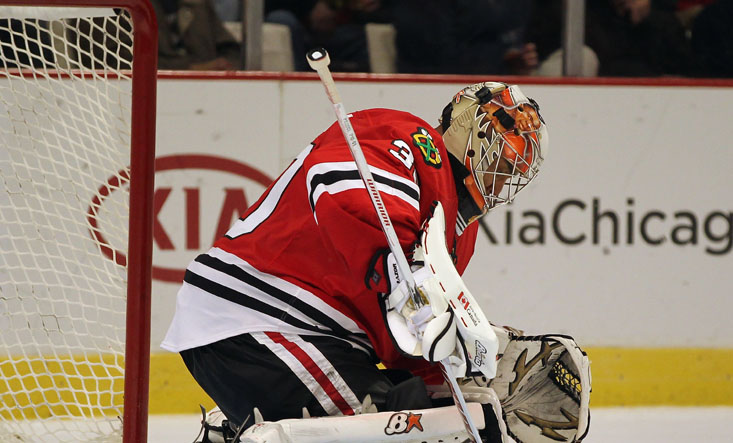 The big news out of practice, but not all that big of a deal, is it's looking like Ray Emery will get his first start as a Hawk tonight. Not terribly surprising because Corey Crawford will be out for a couple days of practice with an injury that defies explanation -- or the Hawks just won't give it to you. So it can't be a bad idea to give him another two days to recuperate.
Plus, it's always a boon to get your backup involved early, lest he go stale on the bench. And there's nothing worse than stale backup. Gotta refridgerate that.
Emery didn't win over too many fans in the preseason, and his numbers were admittedly ghastly. What also didn't help is that rookie Alex Salak, who he was competing with for the door-opener role, pretty much played him off the ice. But the Hawks opted to go with the veteran who was accustomed to the spot duty of a backup goalie instead of a rookie who'd only ever been a starter. Not the first team to do so, not the last.
One thing to watch tonight is how Emery moves from side to side. With his hip condition, the Predators last spring exposed his ability to get from one post to the other. This exhibition season it didn't look like it got any better, so see if the Jets try and expose this. Although his main objective will probably be trying to stop the breakaways Keith and Leddy give up.
-Other practice notes has Viktor Stalberg practicing again, but he won't play tonight. Probably Saturday against the Bruins is a more likely date. Ben Smith was also apparently on the ice, but this weekend is less likely for him.
As for who will be on the ice, Rusty Olesz looks set to replace John Scott on the fourth line with Marcus Kruger and Jamal Mayers. Dan Carcillo will run with the big dogs Patrick Kane and Marian Hossa on the second line tonight, getting as close to Must-See-TV as October hockey gets.