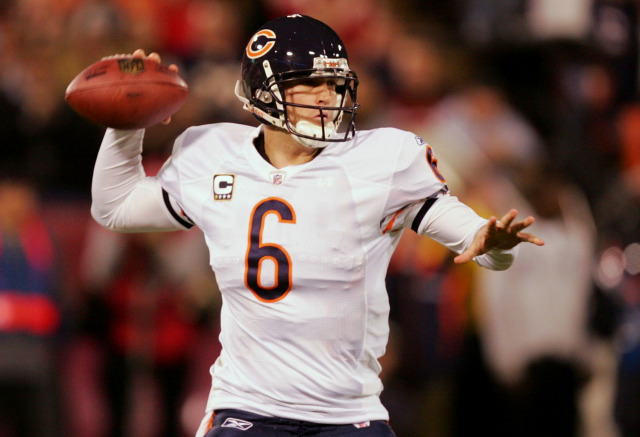 When it's healthy the Eagles defense is not all that bad. But the Eagles defense is not healthy.

That's why, a week after a five-interception performance that almost singlehandedly lost the Bears a close game at San Fransisco -- a game in which the Bears' defense actually played well -- the Eagles' secondary is just what Jay Cutler needs for a rebound.

It's as if Cormac McCarthy wrote a book about the Eagles' cornerbacks; there's desolation everywhere. In last week's loss to the Chargers, Philly cornerback Sheldon Brown was forced to the sideline with a hamstring injury. Meanwhile, previous starters Ellis Hobbs and Joselio Hansen are injured and suspended, respectively.

This forced the Eagles to trot out a patchwork of backup cornerbacks, including the just-signed Ramzee Robinson. The Chargers responded accordingly, putting up 31 points as Philip Rivers threw two touchdowns and no interceptions.

Sound good, Jay? This is exactly the sort of secondary Cutler needs to rebound from his recent ugly play. It's no guarantee of success -- the Eagles will be putting plenty of pressure on the Bears offensive line all day -- but it is a bit of encouraging news as Cutler and the Bears try to forget about the past four weeks.

Eamonn Brennan is a Chicago-based writer, editor and blogger. He is the editor of Yahoo! Sports's college basketball blog The Dagger and a contributor to Inside The Hall. Follow him at his personal site, eamonnbrennan.com, or on Twitter.
Copyright FREEL - NBC Local Media