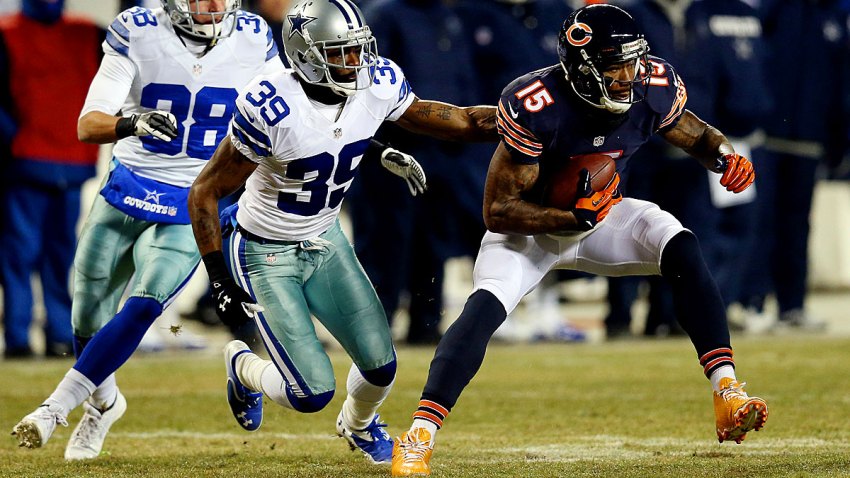 Surprising Back Takes Serious Reps in Thursday Practice
The Chicago Bears have plenty of talented running backs in their camp this season, but one guy in particular stood out in their workout Thursday, and that's third year pro Shaun Draughn.
Draughn, whose 6-foot, 205 pound frame has to make Marc Trestman give him a serious look as a change of pace back, took a lot of reps with the first and second team during practice Thursday, and he looked excellent doing it. In a third-and-short drill in the middle of practice, Draughn took a handoff from Jay Cutler and was immediately swallowed up by Jared Allen, but on the very next play, he caught a gorgeous touch pass from Cutler and sprinted up the field for a huge gain.
While it isn't likely that we're going to see Draughn with the Bears this season, it's entirely possible he could turn some heads as the Bears gear up for the preseason opener. We'll keep an eye on him as camp wears on.
Marshall in Midseason Form in Drills
The Bears need their wide receivers to be in top shape when they hit the regular season, and in the case of Brandon Marshall, he already is looking like he's ready for that first game against the Buffalo Bills in September.
Several times during practice Thursday, Marshall found soft spots in the Bears' secondary and was able to snare passes for big gains. One notable moment came in 11-on-11 drills when he was handed off from Kyle Fuller to Danny McCray in the end zone, and he made a nice cut toward the sideline before being found by Cutler for a touchdown catch.
He also made several nice grabs in 7-on-7 drills earlier in the practice, beating Charles Tillman and Kyle Fuller off the line before getting hit on go routes by Cutler.
De la Puente Gets Right Guard Reps with Long on Shelf
With Eben Britton (hamstring) and Kyle Long (viral infection) still not practicing, free agent acquisition Brian de la Puente got some time at the right guard position next to Jordan Mills in Thursday's practice. The veteran lineman played mostly center last year with the New Orleans Saints, but he's being looked at as a potential fill-in at the guard position if Long or Matt Slauson suffer any setbacks in their recovery from their respective ailments.
There could be an ulterior motive to giving him some reps at right guard as well. Mills hasn't looked particularly great in camp so far (although it's far too early to say that he's in danger of losing his job, considering that he's coming off a serious foot injury), and if he struggles out of the gate during the regular season, de la Puente could conceivably replace him on the line with Long shifting out to right tackle.
That isn't the most likely of scenarios, especially with Long missing time in camp, but with Long's athleticism and de la Puente's ability to play the guard position, it's one that the Bears could consider.
Odds and Ends
-In "Fashion Watch" today, Marshall was back to wearing his colorful green paint-splatter cleats, while the past few practices he had been wearing orange cleats.
-Pat O'Donnell had another insane kick during the Thursday practice, booting a 75-yarder that had fans rising up for a standing ovation.
-Jimmy Clausen and David Fales both saw some second team reps today, with Clausen once again showing some good form as he continues to get used to the playbook. Meanwhile, Jordan Palmer looked a little out of sorts when the coaching staff started to pipe in artificial crowd noise during the practice.
-Christian Jones, an undrafted free agent linebacker, made a couple of nice plays late in practice, including punching the ball out of Senorise Perry's hands on a running play and recovering the fumble himself.