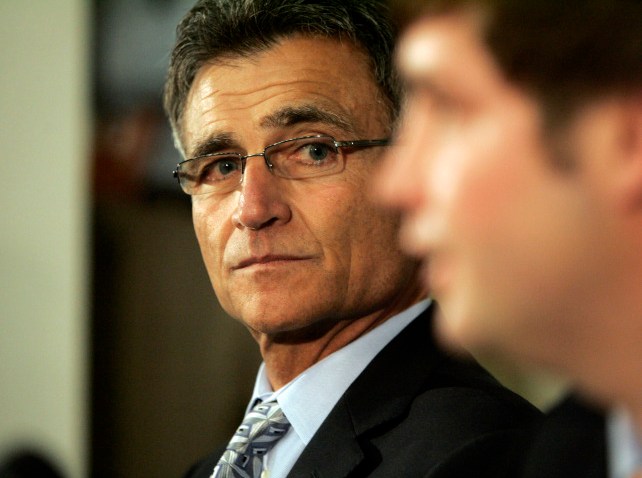 When the Bears traded their 2010 second round pick for Tampa Bay Buccaneers defensive end Gaines Adams, there was a minor uproar. Why is Angelo trading so many picks away? Doesn't he care about the future of the team? What's going on in that front office, anyway?

This sort of thing is misguided, but not because Angelo is some sort of genius at NFL dealmaking. It's because Jerry Angelo can't draft, at least not in the early rounds. What good are early picks if you never manage to use them well?

Consider this: Angelo took over as Bears GM in 2001. Since then, he has used first round picks to draft: David Terrell, Marc Columbo, Michael Haynes, Rex Grossman, Tommie Harris, Cedric Benson, Greg Olsen, and Chris Williams. Only three of these players still play for the Bears. One of them, Chris Williams, missed his entire rookie season with injuries. Another one, Tommie Harris, is a bonafide defensive tackle but likewise can't stay on the field very long. Greg Olsen is perhaps the best of all the picks, and the verdict is still out -- not exactly a ringing endorsement.

Of course, one of these players, Benson, was a massive disappointment in Chicago before proving in 2009 that he could be a productive running back -- for the Cincinnati Bengals. Nice.

The rest of those guys are barely NFL-caliber. Heck, David Terrell can't even get a job anymore. And Angelo's history in the second round isn't all that much better.

Angelo's reputation was that of a scout; he worked for 14 years for the Tampa Bay Bucs, and by the late 1990s, when the Bucs experienced their run of playoff success under Tony Dungy, Angelo was hailed as a success. He brought a draft-heavy philosophy to the Bears. But after eight years of failure at the top of the draft -- Angelo has been good at finding diamonds in the later round rough -- it seems as though the Bears have finally realized that drafting early isn't their best strategy. If they can get proven commodities like Gaines Adams or (far more obviously) Jay Cutler for a trade package that includes high draft picks, why not?

It's not like the Bears were drafting a Jay Cutler equivalent in 2009 anyway. Even if that player existed, Angelo would have passed on him. Thankfully, the Bears GM seems to have finally realized that.
Eamonn Brennan is a Chicago-based writer, editor and blogger. You can also read him at Yahoo! Sports, Mouthpiece Sports Blog, and Inside The Hall, or at his personal site, eamonnbrennan.com. Follow him on Twitter.
Copyright FREEL - NBC Local Media