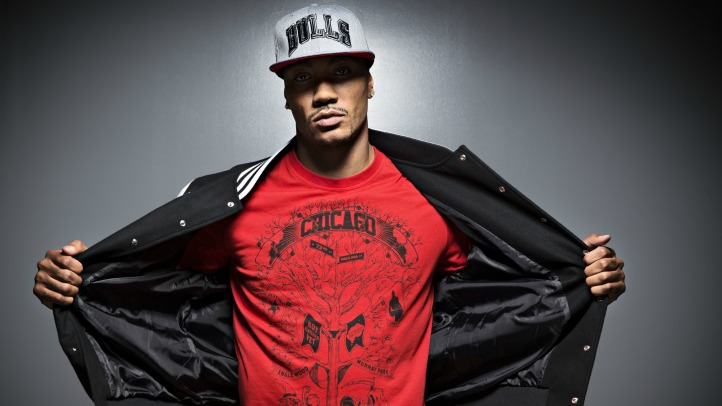 Back in the '90s, Charles Barkley proclaimed that just because he was an NBA superstar, he wasn't a role a model and didn't want the responsibility of raising other people's kids. But almost 20 years later, Derrick Rose is a different kind of NBA superstar.
Rose's importance to the city of Chicago isn't lost on him. At just 24-years-old, he has a clear understanding that there are lot of people – particularly kids – who look up to him and he embraces the enormous pressure of trying to make those in his city proud, saying as much in a recent interview with ESPN.
"I know people in Chicago follow everything that I do," said Rose to ESPN's Rachel Nichols. "I try to stay clean, but I'm not perfect at all. I'm just like everyone else. But for these kids' sake, I'm just going to try to stay positive."
Coming from Englewood, a Chicago neighborhood ravaged by poverty and violence, Derrick still feels the connection to a lot of kids in his old neighborhood and those who grew up in similar situations all over the city. He understands that in order to reach them, he can't be Derrick Rose from the Chicago Bulls, he has to be "Pooh" from 73rd and Marshfield.
"I just try to be myself. I'm just a real person," says Rose. "I'm someone that knows where I came from. No one in my neighborhood would ever be talking to you right now. I know that … I look at stuff different. I know where I could be."
It's in that statement where Rose acknowledges people in his old neighborhood don't typically rise to the heights that he has or even have the opportunity to do so. He also knows that he could've very easily been just like them.
It's just another example of what sets Derrick Rose apart from a lot of athletes of his stature. Most would lose the "common touch" after achieving the success that he has thus far, but he hasn't. And knowing how much he loves Chicago and the people in it, it's unlikely that he ever will.