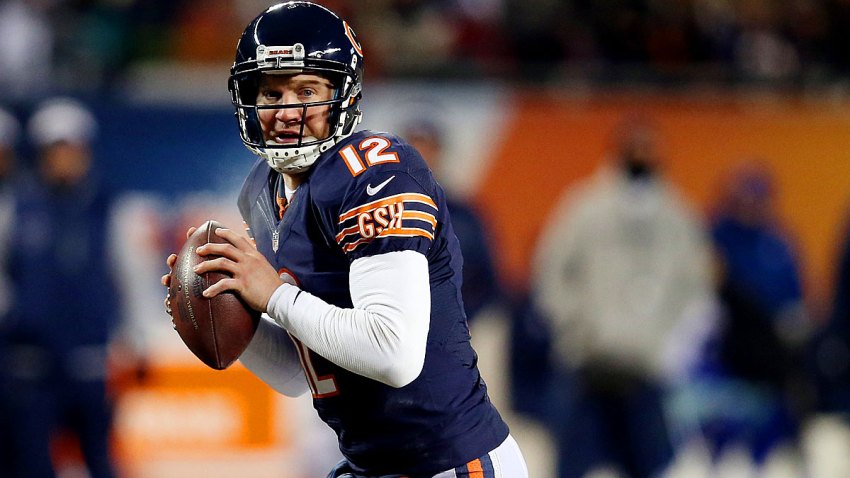 Welcome to Free Agency 2014, a series of articles designed to discuss which players the Chicago Bears should attempt to keep in the fold for next season, and which players they should bid adieu to as they attempt to work through a tough salary cap situation.
Today's player is quarterback Josh McCown.
If someone were to ask you which quarterback in the NFL had the highest QBR (an ESPN proprietary statistic designed to rank quarterback play) last season, most people would say Peyton Manning. Others would go with a guy like Philip Rivers or Drew Brees. Those are all strong guesses, but with a QBR of 85.1, the winner is……Josh McCown.
In just eight games played in the 2013 season, McCown completed 66.5% of his passes, threw for 1829 yards, and tossed 13 touchdowns while only picking up one interception on the season. His passer rating of 109.0 was by far the highest of his career, and he became the oldest Bears quarterback to ever throw for over 300 yards in a game.
Now, at 34 years of age (he will turn 35 on July 4th), McCown is a free-agent-to-be, and despite assertions by several members of the Bears organization (including Jay Cutler) that they want to keep McCown in the fold, it's unclear if he will be resuming his place as the team's back-up quarterback next season.
There are several reasons for this. The first and most obvious are the financial implications of keeping him. Coming off his best season as a professional, McCown could be looking for a pay bump as he enters the final seasons of his career, and the Bears aren't in a spot where they have the luxury of giving a big pay raise to a guy they don't expect to be starting games.
That matter is compounded by the fact that the Bears have committed a lot of money to Cutler, with $22.5 million in guaranteed money coming his way in 2014 (that money could be spread out later through a contract restructuring if it's necessary). Paying out $3 or $4 million more to a quarterback would stretch the team's limited resources even thinner, and that's not something that Phil Emery is likely looking to do.
Further complicating things is that there are plenty of teams who would likely be willing to pony up for McCown's services. Teams like the Cleveland Browns and Tennessee Titans could be looking for place holder quarterbacks as they try to groom one of the many options present in May's NFL Draft, and they could both be in a position cap-wise to pay a premium for McCown to come throw passes for them.
With those things in mind, should the Bears try to keep McCown? From all of his public comments, the quarterbacks seems to want to stay in the city, so there could be some middle ground that the two sides could reach. Could the team offer him a two year contract with a nice signing bonus to help spread out the cap hit his raise would bring, and give him some financial security as he heads into the NFL sunset?
That scenario is an ideal one for the Bears, especially considering that McCown seemed to be instrumental in helping Cutler learn Marc Trestman's offensive system, and it's an avenue that they should pursue.