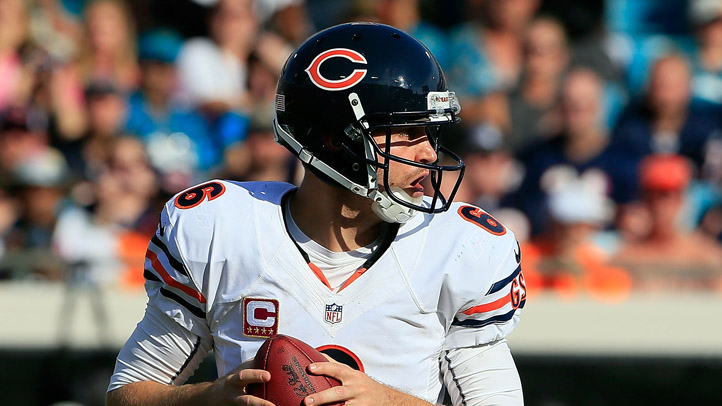 Being a backup Bears quarterback is suddenly a lonely assignment. Usually back ups are fan favorites. But this year, Bears fans are loving Jay Cutler.
The proof was in the cheers that erupted at Soldier Field when Cutler returned from a vicious hit that could have knocked him out of the game.
"That was, that was good to hear" Cutler said. "It hasn't always been great around here but they're coming around slowly but surely...that was fun."
Cutler even smiled as he remembered Sunday's gesture, though wincing at the pain he felt in his ribs.
If Cutler were to go down this year, the Bears have insurance.
Last year when they lost him for the final six games they watched as Caleb Hanie turned a 7-3 record turned into a .500 season. Almost immediately after the season, Jason Campbell signed for $3.5 million.
That gives Cutler some peace of mind.
"JK's been in this league a year longer than me" Cutler said of his new backup. "He knows what this league is all about. He's a professional, he sits in meetings with me, he knows his stuff, he's ready anytime. Hopefully nothing happens, but if I go down we're in good hands."
While Cutler insists he will play Sunday against the Panthers, Campbell is ready though admits its not easy.
"This experience is harder" Campbell said explaining how the backup only gets reps with the scout team offense once the regular season begins. "For me everything is mental. I just see if I can kind of watch everything that Jay does, the checks & everything. just in case something happens, i have to try to assimilate that quickness and try to keep the offense on schedule."
It's a tryout for Campbell too, who is on a one year contract and hopes to go back to being a starter in 2013. Not being "the guy" after six years as a starter isn't easy for the former 1st round draft pick (2005, Washington), "Once i play i have to play my style".