There's no denying Kris Bryant has talent. But it turns out the Cubs star and his wife Jess have great manners, too.
The newlyweds are sending thank you notes to nearly everyone who sent them a wedding gift – including Cubs fans that they've never even met. Get To Know Kris Bryant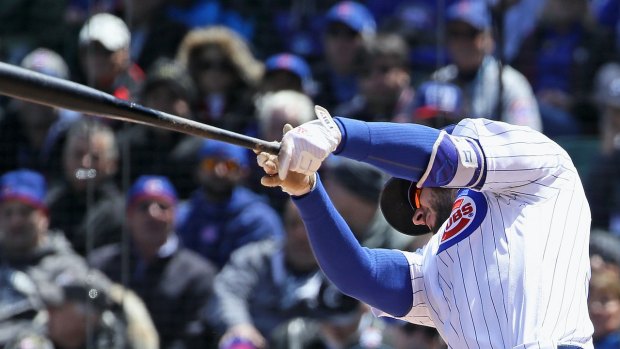 On Wednesday, Jess posted a photo on Instagram showing an array of envelopes and notes emblazoned with their initials.
"Finally finishing up thank you notes & they will be sent out this week!!!" she wrote. "Thank you, thank you, THANK YOU everyone who sent a gift & being so patient as I worked to get these out."
The high school sweethearts tied the knot in January, surrounded by several of his fellow World Series champion teammates.
After they announced their engagement in Dec. 2015, Cubs fans found their registry and went to town, sending plenty of presents the happy couple's way.
Those gifts have not gone unnoticed, as Jess posted a photo in May of their kitchen cabinets, filled with nothing but dishes and even a mixer from fans.
"Shoutout to all you amazing fans who sent us wedding gifts!! Everything in this photo all came from you guys, and we couldn't be more thankful!!" she wrote, promising that thank you cards were on the way.
And as promised, all those fans who wanted to be a part of their MVP's special day were not forgotten, Jess said Wednesday – provided they took credit for their gift.
Cubs Photo Day Pictures Are Here - And They're Awesome
"A little disclaimer: I tried REALLY hard to make sure every single person who sent something got a note, but some came without invoices & some had no addresses attached!! I still want those who got missed...I hope not any...to know we greatly appreciate that you took the time to think of us and our marriage," she wrote.
If you didn't send the Bryants a gift, there are a few more items available on their Crate and Barrel registry – for those fans looking to send belated congratulations or perhaps just a pick-me-up ahead of the postseason.