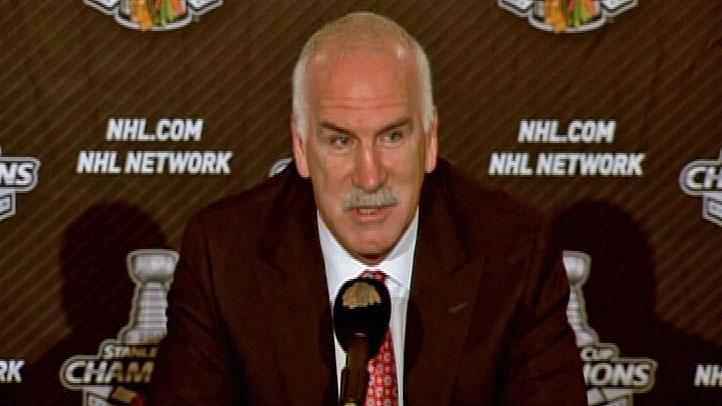 While much of the focus in the first three games of the Chicago Blackhawks' series with the Detroit Red Wings has been on the team's penalty killing prowess, the bigger story has been the team's inability to score on the power play.
In the series, the Hawks are a measly 1-for-9 on the man-advantage, continuing a season long trend of difficulty in those situations. To remedy the problem, head coach Joel Quenneville elected to shake things up for the team's two power play groups in practice, with Duncan Keith, Patrick Sharp, Marian Hossa, Brandon Saad, and Bryan Bickell in one unit and Jonathan Toews, Patrick Kane, Andrew Shaw, Nick Leddy, and Brent Seabrook in the other.
The groupings are interesting, especially considering that Quenneville is sticking with the strategy of only having one defenseman in the first group. Hossa and Sharp tend to switch off in that role when Keith is on the ice with them, but a potentially better idea would be to swap out Saad with defenseman Johnny Oduya, and have Sharp take back his position along the side of the net, where he has made it a habit in his career of firing in rebounds for goals.
In addition to moving Sharp down low, the Hawks will also put Bickell undoubtedly near the blue paint to try to block Detroit goaltender Jimmy Howard's vision, and having an extra point man to fire shots in those situations could be beneficial to the Hawks.
As for the second group, the roles are pretty well defined. Seabrook should generally stick to the blue line, while Leddy will both use his speed for zone entry purposes, as well as pinch in when traffic collapses on the net. Kane will stick to the sides mainly to draw away defenders with his puck handling abilities, and Toews and Shaw will mix it up in terms of being in position for rebounds, as well as providing netfront presence.
These changes aren't massive in terms of scale or strategy, but the shake-ups could do the Hawks some good. In quite a few of their power play situations lately, the team has looked like they just can't get into a rhythm. Whether it's because they make one pass too many, or because they can't seem to find an open window to shoot through in the Detroit defense, the fact is that they are letting too many opportunities go by the wayside, so they need to get back to fundamentals.
If each guy in these groups fills their role, then the Hawks should be able to get back in sync and at least put more pressure on the net in these situations. If they can't, then they are going to likely head back to Chicago down 3-1 in the series.