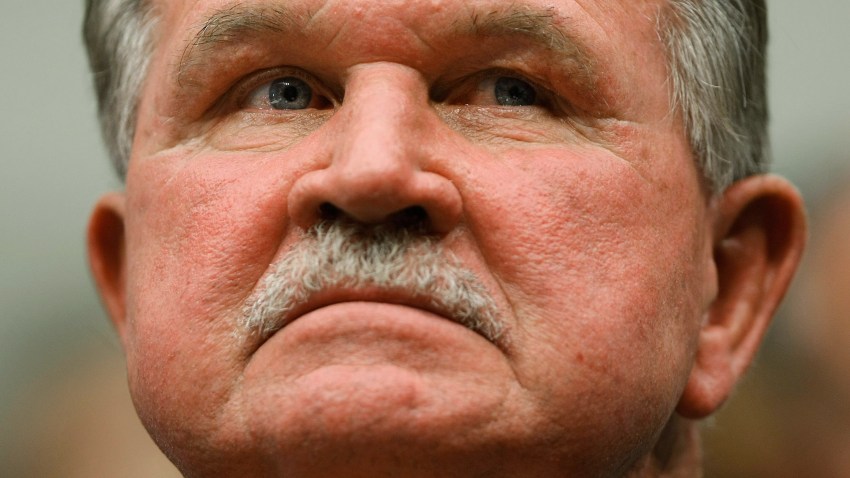 So, it appears Mike Dikta, who long ago transitioned from "former Bears coach Mike Ditka" to "profession: being Mike Ditka," has decided to step up to the political plate yet again. This time he's throwing his considerable political support behind a little known Republican Senate nominee named Pat Hughes.

Who is Pat Hughes? Hughes is a little-known Hinsdale real estate developer how supports mainstream Republican values. He's up agains Rep. Mark Kirk in the primary battle. Kirk has caught some flak from Republicans recently for supporting "cap-and-trade" carbon emissions and abortion rights.
Ditka doesn't buy that junk. He was a major Sarah Palin supporter during her run with presidential candidate John McCain in 2008. (Ditka also considered a run for U.S. Senate in 2004, when a young upstart named Barack Obama topped the always-hilarious Alan Keyes for the Illinois seat.)

But that stuff is all beside the point. Here's the question we're interested in: Why do people care about Mike Ditka's political beliefs?

OK, OK, so it's not all that hard to figure out. The man is a popular figure in Chicago. He's especially popular among his own demographic -- aging white males that lived through the Bears years and who worship Ditka not just as a football genius but as a paragon of meathead masculinity. Thanks to his success in the city, his ubiquitous commercial presence, and his outsized persona, Ditka has achieved icon status in Chicago. No one denies that.

What we do deny is that that should confer any sort of political trust, especially when the person at hand can no longer discuss his own area of expertise -- football -- with anything resembling fluency. Really, just listen to Ditka on ESPN's Sunday morning show. This is the sort of person you're interested in taking Senate nominee advice from?

Maybe this is idealistic of us, but perhaps those who seem to care about whether Ditka endorses one candidate or another should instead dedicate just a little time, maybe 10 minutes of web-surfing time at work (if that means not reading the rest of this column, we're cool with that) to researching candidates on their own. Then everyone can make their own decisions about politics, and no one has to care -- or pretend to care -- what Mike Ditka thinks.

As Ditka himself might say, what we call that right there ( ... pause ... ) is a win-win scenario.

Eamonn Brennan is a Chicago-based writer, editor and blogger. You can also read him at Yahoo! Sports, Mouthpiece Sports Blog, and Inside The Hall, or at his personal site, eamonnbrennan.com. Follow him on Twitter.
Copyright FREEL - NBC Local Media